Handling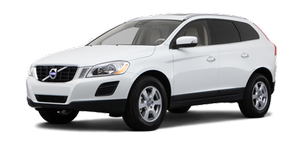 • Check that the battery cables are correctly connected and tightened.
• Never disconnect the battery when the engine is running (for example, when replacing the battery).
• If the battery is fully discharged a number of times, this may shorten its service life.
• The service life of a battery is affected by factors such as the number of starts, driving conditions and climate. Extreme cold may also further decrease the battery's starting capacity.
• Because the battery's starting capacity decreases with time, it may be necessary to recharge it if the vehicle is not driven for an extended period of time or if the vehicle is usually only driven short distances.
• Never use a quick charger to charge the battery.
CAUTION The infotainment system's energy-saving feature may not function correctly or at all, and/or a message may be displayed if a battery charger or jumper cables are not connected properly.
• The negative terminal on the battery must never be used to connect a jumper cable or a battery charger. Only the ground point on the chassis may be used.
See page 114 for an illustration and additional information.
WARNING
• Never expose the battery to open flame or electric spark.
• Do not smoke near the battery.
• Battery fluid contains sulfuric acid. Do not allow battery fluid to contact eyes, skin, fabrics or painted surfaces. If contact occurs, flush the affected area immediately with water. Obtain medical help immediately if eyes are affected.
NOTE
The life of the battery is shortened if it becomes discharged repeatedly.
See also:
If the BRAKE and ABS warning lights comeon at the same time, this could indicate afault in the brake system.
• Stop the vehicle in a suitable place and switch off the engine. • Restart the engine. • If both warning lights go off, no further action is required. • If both lights are still on after the eng ...
Dialing from a call list
The dialogue below enables you make a call from one of your cell phone's call lists. The user initiates the dialogue by saying: Phone > dial from call list or Phone dial from call list C ...
Interior
Volvo's largest sedan is categorized as a midsize passenger car, but its spacious interior makes some other luxury sedans look small by comparison. Even with a sunroof, headroom is ample for tall ...