Materials used in the cabin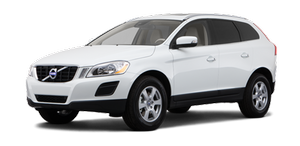 The materials used in the cabin have been developed to help minimize the amount of dust and make the cabin easier to keep clean. All floor mats can be easily removed for cleaning.
Use car cleaning products recommended by Volvo. See also the information beginning on page 344.
See also:
Anti-lock Brake System (ABS)
The ABS system performs a brief self-diagnostic test when the engine has been started and driver releases the brake pedal. Another automatic test may be performed when the vehicle first reache ...
Using HDC
HDC allows the car to roll forward at a maximum speed of 6 mph (10 km/h), and 4 mph (7 km/h) in reverse. However, the accelerator pedal can be used to select any speed that is possible in firs ...
Tire sealing system–overview
1 Speed limit sticker 2 On/Off switch 3 Electrical wire 4 Bottle holder (orange cover) 5 Protective hose cover 6 Air release knob 7 Hose 8 Bottle with sealing compound 9 Air pressure gauge ...