USB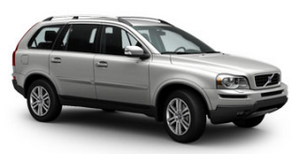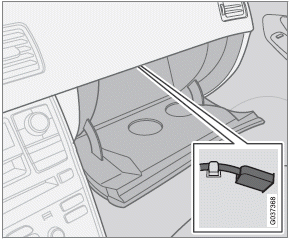 USB connector in glove compartment
If you connect an iPod , MP3 player or a USB flash drive to the optional USB connector, this device can be controlled using the vehicle's audio controls.
NOTE
Be sure that the device and/or cable are in the glove compartment before closing the glove compartment door.
1. Select USB with the SELECTOR button.
> Connect device will be displayed.
2. Connect the iPod , MP3 player or USB flash drive to the USB connector (see the illustration).
> The text Loading will be displayed while the system loads the files (folder structure) on the device. This may take a short time.
When the information has been loaded, information about the tracks on the device will be displayed.
The

buttons can be used to fast forward/reverse or change tracks:
Х Press briefly to change tracks.
Х Press slightly longer to fast forward/reverse.
The arrow keys on the steering wheel keypad can also be used in the same way.
NOTE
Х The system supports a number of iPod models produced in 2005 or later.
Х In order to help avoid damage to the USB socket, it will be switched off if there is a short circuit or if the connected device uses too much current (which can happen if the device does not comply with the USB standard). The USB socket will reactivate the next time the ignition is switched on if the problem no longer exists. If the problem persists, contact a trained and authorized Volvo service technician.
USB flash drive
To simplify the use of a USB flash drive, it is advisable to only store music files on the drive.
It will take considerably longer for the system to index the files on the drive if it contains anything other than compatible music files.
NOTE
Х The system supports removable media that uses the USB 2.0 standard and the FAT32 file system. It can index up to 1,000 folders and a maximum of 254 sub-folders/files for each folder. However, the highest folder level can support up to 1,000 sub-folders/files.
Х When using a longer type of USB device, connecting it with a USB adapter cable will help reduce mechanical wear on the USB socket and on the device.
See also:
Passenger compartment blower
Approximately 50 minutes after the ignition is turned off, the blower may come on automatically, and run for seven minutes, to remove condensation in the A/C evaporator. ...
Living With the C30
You'd be forgiven for thinking "hatchback = practical," but that's not quite the case with the C30. Sure, it's more practical than a two-seat roadster, but this isn't a family car Ч unle ...
On and Off
In certain situations, it may be desirable to switch City SafetyЩ off, such as when driving in close quarters where leaves, branches, etc. may obscure the hood and windshield. When the engine is ...