Turn signals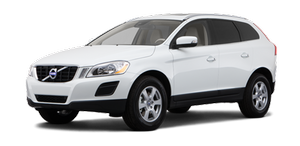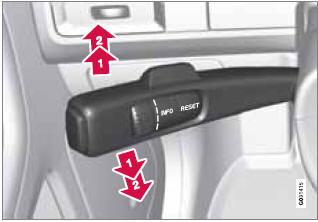 Turn signals
When changing lanes
1 The driver can automatically flash the turn signals 3 times by moving the turn signal lever up or down to the first position and releasing it.
When turning
2 Move the lever as far up or down as possible to start the turn signals. The turn signals will be cancelled automatically by the movement of the steering wheel, or the lever can be returned to its initial position by hand.
NOTE
• This automatic flashing sequence can be interrupted by immediately moving the lever in the opposite direction.
• If the turn signal indicator flashes faster than normal, check for a burned-out turn signal bulb.
See also:
W – Winter/Wet driving mode –enhanced vehicle traction
Press the W button at the base of the gear selector to engage/disengage this driving mode (see illustration). The W symbol will appear in the display (see page 58) when the function is activated ...
Reinserting the key blade in the remote key
1. Hold the remote key with the slot for the key blade up. 2. Carefully slide the key blade into its groove. 3. Gently press the key blade in the groove until it clicks into place. ...
Listening to satellite radio
The Sirius satellite system consists of a number of high elevation satellites in geosynchronous orbit. NOTE The digital signals from the Sirius satellites are line-of-sight, which means ...