Turn signals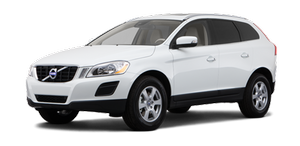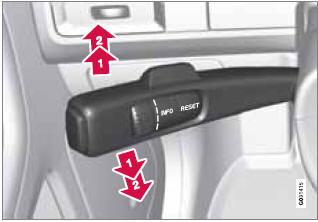 Turn signals
When changing lanes
1 The driver can automatically flash the turn signals 3 times by moving the turn signal lever up or down to the first position and releasing it.
When turning
2 Move the lever as far up or down as possible to start the turn signals. The turn signals will be cancelled automatically by the movement of the steering wheel, or the lever can be returned to its initial position by hand.
NOTE
• This automatic flashing sequence can be interrupted by immediately moving the lever in the opposite direction.
• If the turn signal indicator flashes faster than normal, check for a burned-out turn signal bulb.
See also:
Erasing HomeLink Buttons
To erase programming from the three Home- Link buttons (individual buttons cannot be erased but can be "reprogrammed" as outlined below), follow the step noted: 1. Press and hold the two outer ...
New Tires
Remember that tires are perishable goods. As of 2000, the manufacturing week and year (Department of Transportation (DOT) stamp) will be indicated with 4 digits (e.g., 1510 means that the ti ...
Interior
According to Volvo, the upholstery in the V50's five-passenger interior was inspired by sportswear. The instrument panel's texture is meant to signal technical innovation to the occupant. An Intel ...