CHANGE CODE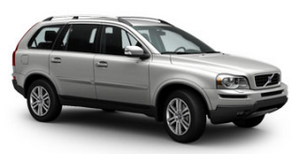 This function makes it possible to change the channel access code. The default code is 0000.
To change the code:
1. Select CHANGE CODE and press ENTER.
2. Enter the current code and press ENTER.
3. Enter the new code and press ENTER.
4. Confirm the new code and press ENTER.
If an incorrect code is entered, the text "Incorrect code!" is displayed.
If you have forgotten the access code
1. Select "SIRIUS ID" in the Sirius settings menu and press ENTER.
2. Press and hold the ENTER button for 2 seconds.
The current code will be displayed.
Your Volvo retailer can also provide you with assistance.
See also:
Cleaning the BLIS camera lenses
In order to function optimally, the BLIS camera lenses must be kept clean. They can be wiped clean with a soft cloth or wet sponge. CAUTION • Clean the lenses carefully to avoid scratching. ...
Jack attachments
Jack attachment points There are two attachment points for the jack on each side of the vehicle. These attachment points are under the center of each door. WARNING There is an attachment point ...
Snow tires, studded tires
Tires for winter use: • Owners who live in or regularly commute through areas with sustained periods of snow or icy driving conditions are strongly advised to fit suitable winter tires to help re ...