Automatically storing stations –AUTOSTORE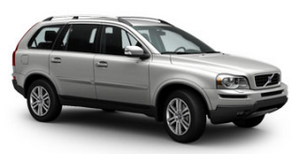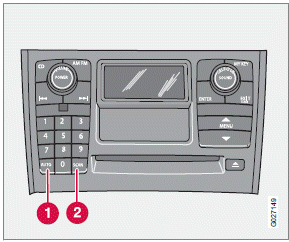 This function automatically searches for, and stores up to 10 strong AM or FM stations in a separate memory. If more than 10 stations are found, the 10 strongest ones will be stored. The function is especially useful in areas in which you are not acquainted with radio stations or their frequencies.
Starting autostore
1. Choose a frequency band with the AM/ FM button.
2. Press and hold down the AUTO button (1) until AUTOSTORING is shown in the display.
When AUTOSTORING is no longer displayed, the autostore process is complete. The automatically stored stations can be selected withe the preset (number) keys If there are no stations with sufficient signal strength, NO AST FOUND is displayed.
Stopping autostore
Press EXIT.
Selecting an autostored station
1. Press AUTO (1) briefly. AUTO will be displayed.
2. Press one of the preset buttons (0 – 9).
The radio will remain in Autostore mode until AUTO, EXIT, or AM/FM is pressed.
See also:
Auto-brake
If a collision is imminent and the driver has not applied the brakes or begun to steer around the vehicle or pedestrian, the auto-brake function is activated without the driver pressing the brake ...
Replacing the high beam bulb (halogenheadlights)
1. Remove the rubber cover by pulling it off. 2. Pull the connector from the lamp housing. 3. Loosen the bulb's retaining spring by first moving it to the right and then moving it out of the way ...
Exterior
Some V50 design characteristics were borrowed from early Volvo wagons. Still, styling hasn't veered dramatically away from the V40. Volvo notes that "from above, the body resembles the shape ...