Polishing and waxing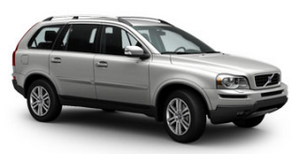 Х Normally, polishing is not required during the first year after delivery, however, waxing may be beneficial.
Х Before applying polish or wax the vehicle must be washed and dried. Tar spots can be removed with kerosene or tar remover.
Difficult spots may require a fine rubbing compound.
Х After polishing use liquid or paste wax.
Х Several commercially available products contain both polish and wax.
Х Waxing alone does not substitute for polishing a dull surface.
Х A wide range of polymer-based car waxes can be purchased today. These waxes are easy to use and produce a long-lasting, high-gloss finish that protects the bodywork against oxidation, road dirt and fading.
Х Do not polish or wax your vehicle in direct sunlight (the surface of the vehicle should not be warmer than 113∞ F (45∞ C).
CAUTION
Volvo does not recommend the use of longlife or durable paint protection coatings, some of which may claim to prevent pitting, fading, oxidation, etc. These coatings have not been tested by Volvo for compatibility with your vehicle's clear coat. Some of them may cause the clear coat to soften, crack, or cloud. Damage caused by application of paint protection coatings may not be covered under your vehicle's paint warranty.
See also:
Switching HD on or off
The factory setting for HD radio is off. However, when driving through areas with weak HD signals (fringe areas), you may experience that the radio repeatedly switches between analogue/ digita ...
Driving distance on current fuel reserve
This function shows the approximate distance that can be driven on the fuel remaining in the tank. The calculation is based on average fuel consumption during the last 20 miles (30 km) of driv ...
Temporary spare
The spare tire in your vehicle1 is called a "Temporary Spare". Recommended tire pressure (see the placard on the B-pillar or on the fuel filler door) should be maintained irrespective ...