Power door mirrors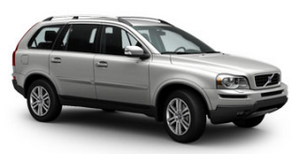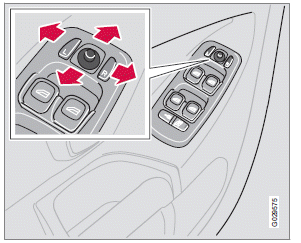 The mirror control switches are located on the driver's door armrest.
Driver's side: Press the L button (a light in the switch will light up) to activate the adjustment control and then use this control to adjust the driver's door mirror.
Passenger's door: Press the R button (a light in the switch will light up) and then use the adjustment control to adjust the passenger's door mirror.
After you have adjusted the mirror(s), press the L or R switch again (the light will go out) to deactivate the adjustment control.
For information about the optional folding mirror function.
WARNING
The mirrors should always be adjusted prior to driving. Objects seen in the passenger's side wide-angle door mirror are closer than they appear to be.
Mirror memory function (with the central locking system)
If you lock the vehicle and later unlock it with the same remote key and open the driver's door, the door mirrors (and the driver's seat) will automatically move to the position they were in when you left the vehicle. This feature will work in the same way with all of the remote key transmitters (up to 3) that you use with your vehicle. This feature will not function if you lock your vehicle with the key.
Water repellent glass

The side door mirrors can be treated with a water repellent coating. The symbol to the left indicates these windows have this coating.
The coating improves vision by causing the water to run off quickly.
For information on cleaning this type of glass.
CAUTION
Use the heating function to remove ice, snow, or mist from the mirrors.
See also:
Safety
Volvo's commitment to safety is as old as the company itself. As Assar Gabrielsson, one of the founders of Volvo, declared: "Cars are driven by people. The guiding principle behind everything ...
Remote control
The remote control included with the Rear Seat Entertainment system (RSE)* can be used to control all of the infotainment system's functions. To use the remote, begin by pressing its button to ...
Dialing from a call list
The dialogue below enables you make a call from one of your cell phone's call lists. The user initiates the dialogue by saying: Phone > dial from call list or Phone dial from call list C ...