Inflatable Curtain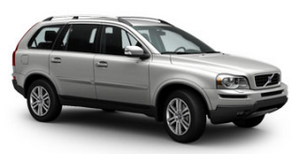 The Inflatable Curtain (IC)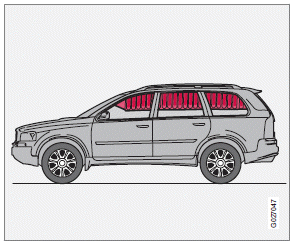 This system consists of inflatable curtains located along the sides of the roof liners, stretching from the front side windows to the rear edge of the rear side windows. It is designed to help protect the heads of the occupants of the front seats and the occupants of the outboard rear seating positions, including the outboard passenger in the third row of seats in certain side impact collisions.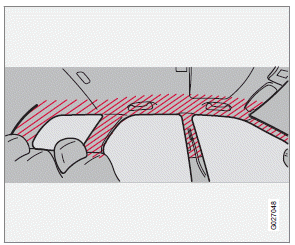 The inflatable curtains in the Volvo XC90 are also designed to help protect the occupants of the vehicle in a roll-over situation, and to help prevent them from being thrown from the vehicle if a roll-over occurs.
NOTE
The Inflatable Curtains extend to protect all three rows of seats.
By design, the IC system deploys only on the side of the vehicle affected by the impact.
However, in certain side impacts, or in a rollover situation, BOTH the Inflatable Curtains and the Side Impact Airbag System (SIPS-bag) will deploy, whereas, in some cases, ONLY the Inflatable Curtain will deploy. In cases where BOTH the Inflatable Curtain and the SIPS-bag deploy, deployment will occur simultaneously.
NOTE
If the Inflatable Curtain deploys, it remains inflated for approximately 5 seconds.
WARNING
Х The IC system is a supplement to the Side Impact Protection System. It is not designed to deploy during collisions from the front or the rear of the vehicle.
Х Never try to open or repair any components of the IC system. This should be done only by a trained and qualified Volvo service technician.
Х Never hang heavy items from the ceiling handles. This could impede deployment of the Inflatable curtain.
WARNING
In order for the IC to provide its best protection, both front seat occupants and both outboard rear seat occupants should sit in an upright position with the seat belt properly fastened; adults using the seat belt and children using the proper child restraint system.
Only adults should sit in the front seats.
Children must never be allowed in the front passenger seat.
Failure to follow these instructions can result in injury to the vehicle occupants in an accident.
See also:
Supplemental Restraint System (SRS)
If this light comes on while the vehicle is being driven, or remains on for longer than approximately 10 seconds after the vehicle has been started, the SRS system's diagnostic functions have de ...
Getting Around
The C30 is a fun car to drive. It has a 227-horsepower, turbocharged five-cylinder engine that makes 236 pounds-feet of torque, which is a lot of power for such a small car. It's estimated to get ...
Pairing and connecting an external device
Before an external device can be connected, it must be paired to the infotainment system. The procedure for connecting an external device varies, depending whether or not the device has previously ...