Interior design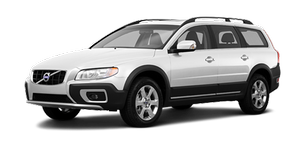 The all-new Volvo XC70 is designed to be the perfect motoring accompaniment to an outdoor lifestyle. It offers great comfort and luxury for five adults yet has more than enough carrying space for items such as mountain bikes, skis and other sporting equipment.
Despite the enormous rear load area and the versatility of the cabin, the Volvo XC70 is also a supremely comfortable luxury car, able to transport five people across continents in great refinement.
'The XC70 has a dual personality,' says Jonathan Disley, who designed the interior. 'On weekdays it's a sophisticated and elegant car for an active urban life. Come the weekend, it transforms into a rugged partner for all kinds of exciting adventures.'
Improved carrying capacity and even greater functionality
The outgoing Volvo XC70 was recognised for its legendary spaciousness and versatility. Yet the all-new XC70 is even better. Rear load area is increased by 55 litres to a vast 575 litres. Rear access is improved by a bigger aperture, thanks partly to locating the rear tail-lights on the tailgate rather than the rear pillars. Total load length, with rear seats folded, is 1878mm (up 30mm).
The ingenious new 40:20:40 split rear seat offers unrivalled versatility. Unlike conventional 60:40 or 50:50 split rear seats, the new set-up means that long items such as skis can be accommodated while two adults sit in comfort in the rear. When all three seats are folded, the load area is completely flat. The backrest of the front passenger seat can also be folded, further improving carrying capacity.
'The new and innovative 40:20:40 split rear seat is one of the cleverest features of the all-new XC70,' says Tomas Ahlborg, project director. 'With normal folding rear seats, a long load such as a pair of skis reduces your car to a three-seater. With the XC70 you still get two good full-size seats in the rear.'
The rear seats now fold easily. In one movement they fold flat into the floor without the need to remove headrests or separately fold the seat squabs.
The rear load bay itself is also extremely versatile. There is a large, 46-litre, lockable storage area under the floor for valuable goods. Aluminium rails are fitted to the floor and their adjustable anchorage points make it easy to secure items. The anchorage points can be tucked down into the rails when not in use. The boot's side panels also have built-in load anchorage eyelets, further to help fasten goods. In addition, the side panels can be fitted with multifunctional rails to attach hooks, load-anchoring nets and cargo space dividers, to name just a few of Volvo's many loading accessories. In effect, the Volvo XC70 offers a 3D load-securing system. A sliding floor is also available.
Cabin has greater length, shoulder-room and legroom
The longer cabin means more room for all passengers. 'One of the goals was to ensure that all five occupants travel first-class, not just the two people in the front,' says Tomas Ahlborg.
Rear legroom has increased by 48mm, rear knee clearance by 21mm and front shoulder-room by 30mm. The longer cabin also means the distance between the front and rear occupants is extended by 21mm.
Volvo has an excellent reputation for seating comfort. The seats on the Volvo XC70 are new and even better than the outgoing model's and the electrically operated front seats can be upholstered in perforated and ventilated leather. Front seat ventilation is supplied by the car's air-conditioning system: the air flows through the upholstery and seat cushion, reducing any stickiness caused by warm weather. The system also comes with heated front seats for chilly days, while heated rear seats are now available.
The brilliantly versatile cabin allows you to have a five, four, three, two or even single-seater as the seats fold and carrying space increases. The standard roof racks further increase carrying capacity.
Integrated two-stage child booster cushions
Another major seating innovation is Volvo's new integrated, two-stage child booster cushions.
'Modern cars tend to have higher belt lines [where the bottom of the windows meets the body] so younger children tend not to be able to see out of the window in the back these days,' says Karl-Johan Ekman, technical project leader. 'It's a big problem because if they're bored and causing trouble then you won't drive so well.' The two-stage booster allows small children to sit higher and larger children still to receive a height boost. In both cases seatbelt angles are optimised, so safety is improved. The booster can be fitted to either of the outer rear seats.
Luxury cabin befitting a premium saloon
Though the Volvo XC70 has been designed as an adventurous go-anywhere vehicle, it is also a consummate long-distance luxury car. It epitomises Scandinavian luxury. The cabin is simple, elegant and functional, and seamlessly combines beauty and technology. 'It is a more youthful cabin than the V70's,' says design director Steve Mattin. 'The special stitching and trim of the seats, plus new colours, give the cabin a sportier and more outdoor feel. It is also a less complex and warmer environment than that typically found in German premium cars, as befits its Swedish design heritage.'
Premium materials are used extensively, including different grades of leather, two different types of wood and two different styles of aluminium, one unique to the Volvo XC70. Leather-faced upholstery is standard on all models with ventilated leather-faced standard on the SE Sport, typical of the generous equipment levels.
One of the most elegant pieces of interior design is the sleek, ultra-slim centre console, which contains most of the important switches and controls. It contributes to the understated simplicity of the interior, avoiding a plethora of confusing switchgear.
There are three interior colours: soft beige, off black and espresso brown. 'There is more contrast on the XC70's interior than in most premium estates as a reflection of its more youthful customer base,' says Boel Hermansson, head of colour and material design for the all-new Volvo XC70.
An unusual and distinctively Swedish touch is the 'Virrvarr' ('chaos' or 'confusion' in Swedish) detailing used for the stitching of the seats, the cross-brushed aluminium panels and the rear mesh pockets. It is inspired by the busy, almost tangled patterns of the well-known Swedish designer (and prince) Sigvard Bernadotte.
See also:
Cruise control
Steering wheel-mounted controls and display 1 - Standby mode 2 - Resume set speed 3 - Deactivating 4 - Activate/set speed 5 - Set speed indicator (parentheses indicate standby mode) Engaging ...
Passenger compartment filter
Replace the cabin air filter with a new one at the recommended intervals. Please refer to your Warranty and Service Records Information booklet, or consult a trained and qualified Volvo servic ...
Lighting panel
1 Headlight/parking light switch 2 Front fog lights 3 Rear fog light 4 Instrument panel lighting 5 Fuel filler door unlock button ...