2012 Volvo XC60 Review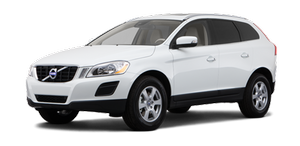 I had high hopes for the 2012 Volvo XC60. I recently (reluctantly) ended a long-term relationship with my own beloved Volvo, a C30, because it no longer fit my evolving family. Having recently added a husband and stepdaughter to my previous status as a single mom of two, we're now in the market for a five-seater like the XC60. I hoped that maybe this car would fill my empty heart.
While my courtship with the well-mannered XC60 started out positive, the chemistry just wasn't there. However, he … I mean it would make a perfect fit for someone else.
The XC60 comes in front- and all-wheel-drive versions in 3.2, T6 and T6 R-Design trims with Premier, Premier Plus and, new for this year, Platinum editions (see the 2011 and 2012 versions side by side). I tested the T6 R-Design — it offers a slightly more aggressive look and driving experience — in the all-wheel-drive Platinum edition, which checked in at $52,675.
With a huge number of mix and match configurations, there's an XC60 for every taste and budget. See them compared here.
See also:
Engaging the cruise control function
Before a speed can be set, the cruise control system must be engaged (put in standby mode). Press the symbol (1). > The symbol illuminates and the text (---) mph (5) indicates that crui ...
Automatically folding down the rear seat's outboard head restraints
1. The ignition must be in mode I or II. 2. Press the button to lower the rear head restraints for improved visibility. NOTE The head restraint must be returned to the upright position ma ...
Changing wheels with TPMS
Please note the following when changing or replacing the factory installed TPMS wheels/ tires on the vehicle: Only the factory-mounted wheels are equipped with TPMS sensors in the valves. If t ...