Music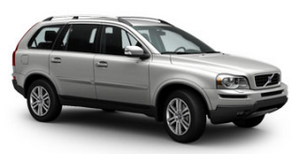 Listening to a music CD
1. Insert a CD into the RSE player's slot with the disc's label facing upward.
> The CD will begin to play automatically.
2. Switch on the cordless headphones and select CH A for the left screen or CH B for the right screen.
> This will direct the sound to the headphones.
3. Adjust the headphone volume by using the thumb wheel on the headphones.
To listen through the vehicle's audio system speakers, press MODE on the audio system control panel and select AUX.
Press

on the RSE remote to route the sound through the speakers.
Selecting a folder on the CD
1. Insert the CD in the player.
2. Press

.
3. Use the navigation buttons (the arrow keys surrounding the OK button on the RSE remote control) to highlight a folder and/or a specific track.
4. Press

to select a sub-folder.
Playback alternatives
The CD can be played in several different ways.
Use the navigation buttons to select one of the alternatives.
With the dialogue box displayed:
1. Press the right navigation button to access the menu to the right..
2. Use the navigation keys to select one of the alternatives.
3. Confirm your choice by pressing

.
Changing tracks on the CD
- Change tracks on the CD by pressing

. Hold the respective buttons down for fast forward or reverse.
Pause
1. Pause and restart the CD by pressing

.
2. Stop the CD by pressing

.
3. Press

again to eject the CD.
Home-burned CDs
CDs burned on a home computer can be played. However, the quality of the sound may be affected by the type of source file and format used, and by the condition of the disc.
See also:
Integrated rear sun shade
Integrated sun shade Pull up the sun shade and attach its hooks to the ceiling clips. > The sun shade's spring-loading will pull it taut. When not in use, release the hooks and hold the su ...
Driving Impressions
Serving as a thoroughly civilized, tightly constructed road machine, the XC70 cruises effortlessly. A touch on the gas pedal can make the car leap ahead, whether the driver is starting off from a ...
Searching for and storing songs
The Song Seek function provides notification when Sirius is broadcasting the songs selected in song memory. Song memory enables you to store the name of the song for future advance notification wh ...