Exterior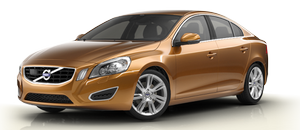 The S60's lines make the car so much more modern and beautiful than the average sedan. I especially love the look of the S60's rear end. The taillights follow the lines of the trunk lid and keep the back interesting. The front end has an aggressive stance that's complemented by the race-inspired headlights and air vents.
Race-inspired means I'm more inclined to race around in a car, and that lead foot of mine did have a price because I didn't come close to meeting the S60's EPA-estimated fuel economy of 18/26 mpg city/highway. The 2011 S60 has a 300-horsepower, turbocharged 3.0-liter inline-six-cylinder engine that's paired with a six-speed automatic. The S60 uses premium gas, so my heavy foot caused me some pain at the gas pump.
For the kids, getting in and out of the S60 was easy. The doors weren't too big or wide, and they felt solid and sturdy. The interior door handles were easy to reach for my kids, so closing the doors on their own was a piece of cake. Yet the doors still felt solid and sturdy. That's a rare combination, that one!
The S60's cargo area is a decent size, but it seemed to fill up quickly after a trip to Costco.
See also:
Using HDC
HDC allows the car to roll forward at a maximum speed of 6 mph (10 km/h), and 4 mph (7 km/h) in reverse. However, the accelerator pedal can be used to select any speed that is possible in firs ...
Interior

Yes, I've already mentioned the S60's copper color, and I might have mentioned how much I really liked it. Well, guess what? The S60's interior is copper, too. Actually, it's called Beechwood Brow ...
Maintenance
Use a screw driver to open the caps or cover and a flashlight to inspect the level. If necessary, add distilled water. The level should never be above the indicator. The fluid level should b ...