2011 Volvo S60 Review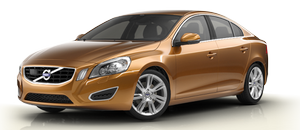 I'd been waiting, hoping and wishing that I'd get the opportunity to drive Volvo's highly anticipated redesigned 2011 S60. I'm having a love affair with sedans now that my kids are old enough to get in the car and buckle up on their own. No more head-bonks and back pains for this mama when I'm in a sedan. The timing for my test of the S60 couldn't have been better.
Just sitting still, the car looked beautiful. The S60 has a curvier, lower-profile feel than previous models. The C-pillar is pushed back, giving the S60 a coupe-like look that's pretty hot right now. I was impressed that the redesign was so thorough. Would the drive live up to the looks?
My first outing in the S60 was no disappointment. The Vibrant Copper paint color let everyone know I was coming. Not that anyone had a chance to really overthink it; with a turbocharged six-cylinder engine, I didn't stick around long enough for bystanders to question what they just saw. Tight handling from this all-wheel-drive sedan was spot-on, adding a thrill to every turn and maintaining spotless integrity on the straightaways.
If you thought that a fancy-pants Scandinavian speed machine would be priced through the roof, you're partly right. While the S60's base price starts at $37,700, my test car had a couple optional packages that bumped up the price by $8,500 to arrive at $46,200.
See also:
Getting Around
The C30 is a fun car to drive. It has a 227-horsepower, turbocharged five-cylinder engine that makes 236 pounds-feet of torque, which is a lot of power for such a small car. It's estimated to get ...
Resume set speed
If cruise control has been deactivated temporarily, it can be reactivated by pressing . The vehicle's speed returns to the most recently set speed. WARNING There may be a significant increas ...
Under the Hood
Both front- and all-wheel-drive 2.5T models hold a 208-horsepower, turbocharged 2.5-liter inline-five-cylinder that produces 236 pounds-feet of torque and works with a five-speed-automatic transmi ...