Hoisting the vehicle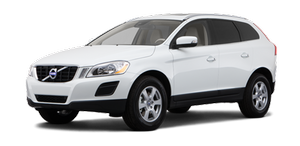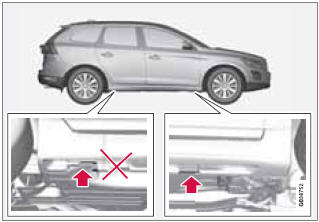 If a garage jack is used to lift the vehicle, the two jack attachments points should be used.
They are specially reinforced to bear the weight of the vehicle. A garage jack can also be placed under the front of the engine support frame.
Take care not to damage the splash guard under the engine. Ensure that the jack is positioned so that the vehicle cannot slide off it.
Always use axle stands or similar structures.
If a two-post hoist is used to lift the vehicle, the front and rear lift arm pads should be centered under the reinforced lift plates on the inboard edge of the sill rail (see illustration).
See also:
C30 in the Market
Battaglia says the C30 is designed to bring younger buyers to the Volvo brand. Lots of automakers talk about developing a young buyer base, but only a few actually seem to come up with a product t ...
Emergency towing
See page 265 for more information. ...
Function
The driver sees what is behind the vehicle and if a person or animal should suddenly appear from the side. PAC is mounted on the tailgate, near the opening handle. The camera has built-in el ...