Hoisting the vehicle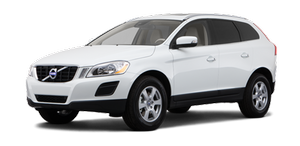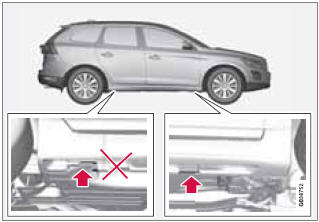 If a garage jack is used to lift the vehicle, the two jack attachments points should be used.
They are specially reinforced to bear the weight of the vehicle. A garage jack can also be placed under the front of the engine support frame.
Take care not to damage the splash guard under the engine. Ensure that the jack is positioned so that the vehicle cannot slide off it.
Always use axle stands or similar structures.
If a two-post hoist is used to lift the vehicle, the front and rear lift arm pads should be centered under the reinforced lift plates on the inboard edge of the sill rail (see illustration).
See also:
Vehicle Overview
Volvo's latest compact wagon debuted at the 2003 Bologna Motor Show in Italy. The automaker began selling the V50 in the summer of 2004, shortly after the comparably redesigned S40 sedan. The auto ...
Lower cross member
The front structure has been supplemented by a lower cross member that adapts the front to the height of a normal-sized passenger car. This enables the other car's deformation zones to function as ...
Interior
According to Volvo, the upholstery in the V50's five-passenger interior was inspired by sportswear. The instrument panel's texture is meant to signal technical innovation to the occupant. An Intel ...