Interior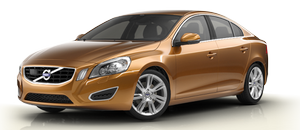 Like all good Scandinavian design, the S60's interior is simple and functional. The materials have an upscale quality and look nice without trying too hard. The floating center stack, which has storage space carved out underneath it, was trimmed in aluminum and artistic to behold.
The center stack is also easy to use. The climate control system has an icon of a person on the center stack that makes warming up the different parts of your body easy. Are your feet cold? Press the icon's feet to get warm air flowing to your tootsies. Your kids will think it's nifty. My test car came with the optional Multimedia Package ($2,700) that includes navigation with voice control, an upgraded sound system and a backup camera.
For those of us with children, the five-seater's sporty design and sedan-ness doesn't make much room for little ones. This is a car that can handle only two child-safety seats at a time — no matter the type. To that point, only two average-sized adults can fit comfortably in the 60/40-split rear seats, though these sportier rear seats are not unusual in this entry-level turbocharged market. Think of them as a casualty of the stylish design and dominating need for speed.
There is no way I could take my family of five up to the mountains for a weekend in this car. Of course, that would force my husband and me to steal away in it on our own for a weekend, and that's not such a bad thing.
IT'S THE LITTLE THINGS THAT COUNT
Storage Compartments (Puny, Fair, Ample, Galore): Fair
Cargo/Trunk Space (Puny, Fair, Ample, Galore): Ample
See also:
Weight distribution affects handling
At the specified curb weight your vehicle has a tendency to understeer, which means that the steering wheel has to be turned more than might seem appropriate for the curvature of a bend. This ensu ...
Safety
Safety is the key quality of any Volvo. Ever since the first Volvo was built in 1927, the overriding priority has been to develop cars that help prevent accidents and, if the accident does happen, ...
New Tires
Remember that tires are perishable goods. As of 2000, the manufacturing week and year (Department of Transportation (DOT) stamp) will be indicated with 4 digits (e.g., 1510 means that the ti ...