2012 Volvo S60 Review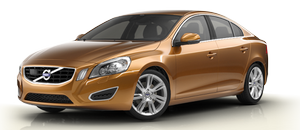 Before test-driving the 2012 Volvo S60, I considered Volvos to be functional cars that included cutting-edge safety features. Put another way, I thought Volvos were dutifully practical family cars that weren't necessarily fun to drive.
Then I got behind the wheel of the 2012 Volvo S60. I found the acceleration to be so smooth and the handling to be so lovely on my test car that I double-checked the car's logo a few times to make sure this wasn't one of those sporty German cars in disguise.
With its 3.0-liter turbo engine that delivers 325 horsepower, the 2012 Volvo S60 T6 R-Design was a blast to drive, and it debunked my previous notions about Volvos being simply practical. The icing on the S60 T6 cake is since it's a Volvo it's still got the cutting-edge safety features that put any driver's mind at ease, especially a driver with small children like me.
The S60 was redesigned for 2011. For 2012, the luxury sedan is all about new trim levels. Previously offered in only the all-wheel-drive T6 trim, Volvo has added the T5 entry-level trim and the top-of-the-line T6 R-Design, leaving the original T6 as the middle child. The T5 trim has front-wheel drive with a 2.5-liter five-cylinder engine, and the upper-level T6 R-Design trim I tested has all-wheel drive and some extra ponies under the hood with a turbocharged 3.0-liter six-cylinder engine.
The 2012 Volvo S60 has a starting MSRP of $31,300, and the T6 R-Design trim starts at $42,950. My test car had a price tag of $46,875.
See also:
Convertible seats
Securing a convertible seat with a seat belt Do not place the convertible seat in the front passenger's seat NOTE Refer to pages 47 and 48 for information on securing a child restraint using ...
Lower cross member
The front structure has been supplemented by a lower cross member that adapts the front to the height of a normal-sized passenger car. This enables the other car's deformation zones to function as ...
Style
There are three C70 T5 trim levels: base, Premier Plus and Platinum. Our test car was a Platinum with the Inscription option package. The Platinum trim includes a number of exterior and interior a ...