2012 Volvo S60 Review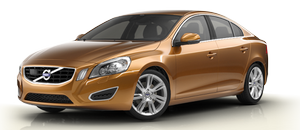 Before test-driving the 2012 Volvo S60, I considered Volvos to be functional cars that included cutting-edge safety features. Put another way, I thought Volvos were dutifully practical family cars that weren't necessarily fun to drive.
Then I got behind the wheel of the 2012 Volvo S60. I found the acceleration to be so smooth and the handling to be so lovely on my test car that I double-checked the car's logo a few times to make sure this wasn't one of those sporty German cars in disguise.
With its 3.0-liter turbo engine that delivers 325 horsepower, the 2012 Volvo S60 T6 R-Design was a blast to drive, and it debunked my previous notions about Volvos being simply practical. The icing on the S60 T6 cake is since it's a Volvo it's still got the cutting-edge safety features that put any driver's mind at ease, especially a driver with small children like me.
The S60 was redesigned for 2011. For 2012, the luxury sedan is all about new trim levels. Previously offered in only the all-wheel-drive T6 trim, Volvo has added the T5 entry-level trim and the top-of-the-line T6 R-Design, leaving the original T6 as the middle child. The T5 trim has front-wheel drive with a 2.5-liter five-cylinder engine, and the upper-level T6 R-Design trim I tested has all-wheel drive and some extra ponies under the hood with a turbocharged 3.0-liter six-cylinder engine.
The 2012 Volvo S60 has a starting MSRP of $31,300, and the T6 R-Design trim starts at $42,950. My test car had a price tag of $46,875.
See also:
FAV—storing a shortcut
The FAV button can be used to store frequently used functions, making it possible to start the stored function by simply pressing FAV. One favorite (for example, Equalizer) can be programmed for ...
2012 Volvo XC60 Review
I had high hopes for the 2012 Volvo XC60. I recently (reluctantly) ended a long-term relationship with my own beloved Volvo, a C30, because it no longer fit my evolving family. Having recently added ...
Air distribution
Air distribution The incoming air is distributed through the ventilation points in the passenger compartment shown above. Air vents in the dash A Open B Closed C Horizontal air flow D Vert ...