Coolant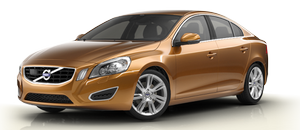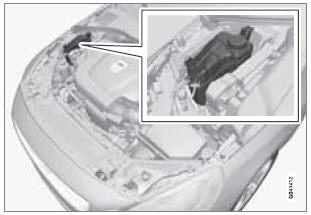 Location of the coolant reservoir
Normally, the coolant does not need to be changed. If the system must be drained, consult a trained and qualified Volvo service technician.
See page 341 for information on cooling system capacities.
CAUTION
If necessary, top up the cooling system with Volvo Genuine Coolant/Antifreeze only (a 50/50 mix of water and antifreeze).
Different types of antifreeze/coolant may not be mixed.
If the cooling system is drained, it should be flushed with clean water or premixed anti-freeze before it is refilled with the correct mixture of water/antifreeze.
The cooling system must always be kept filled to the correct level, and the level must be between the MIN and MAX marks. If it is not kept filled, there can be high local temperatures in the engine which could result in damage. Check coolant regularly!
Do not top up with water only. This reduces the rust-protective and antifreeze qualities of the coolant and has a lower boiling point. It can also cause damage to the cooling system if it should freeze.
Do not use chlorinated tap water in the vehicle's cooling system.

WARNING
Never remove the expansion tank cap while the engine is warm. Wait until the engine cools.
If it is necessary to top off the coolant when the engine is warm, unscrew the expansion tank cap slowly so that the overpressure dissipates.
See also:
Introduction
The HomeLink1 Wireless Control System provides a convenient way to replace up to three hand-held radio-frequency (RF) transmitters used to activate devices such as gate operators, garage door op ...
Practical loading area
The loading area has a lockable load floor covering two storage areas, one for personal items and another for soiled or wet items. The load cover extends over the entire loading area. The rear doo ...
Replacing fuses
1 Relays/fuse box in the engine compartment 2 Fuse box in the passenger compartment, behind the plastic cover 3 Fuse box in the passenger compartment, on the edge of the dashboard 4 Fuse box in ...