Coolant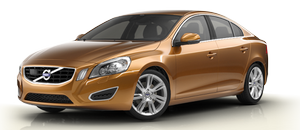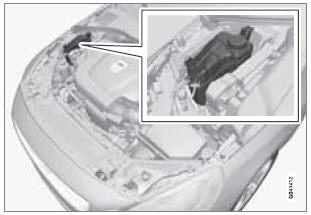 Location of the coolant reservoir
Normally, the coolant does not need to be changed. If the system must be drained, consult a trained and qualified Volvo service technician.
See page 341 for information on cooling system capacities.
CAUTION
If necessary, top up the cooling system with Volvo Genuine Coolant/Antifreeze only (a 50/50 mix of water and antifreeze).
Different types of antifreeze/coolant may not be mixed.
If the cooling system is drained, it should be flushed with clean water or premixed anti-freeze before it is refilled with the correct mixture of water/antifreeze.
The cooling system must always be kept filled to the correct level, and the level must be between the MIN and MAX marks. If it is not kept filled, there can be high local temperatures in the engine which could result in damage. Check coolant regularly!
Do not top up with water only. This reduces the rust-protective and antifreeze qualities of the coolant and has a lower boiling point. It can also cause damage to the cooling system if it should freeze.
Do not use chlorinated tap water in the vehicle's cooling system.

WARNING
Never remove the expansion tank cap while the engine is warm. Wait until the engine cools.
If it is necessary to top off the coolant when the engine is warm, unscrew the expansion tank cap slowly so that the overpressure dissipates.
See also:
Changing
WARNING Connect and disconnect the positive and negative cables in the correct sequence. Removal Switch off the ignition, remove the remote key from the ignition slot and wait at least 5 ...
Exterior
Thanks to its redesign, the S60 is not the boxy Volvo from days of old. Sure, it's a midsize sedan produced by the brand that built its name on safety, but the S60's exterior looks verge on sexy. ...
Re-installing the wheel
1. Clean the contact surfaces on the wheel and hub. 2. Lift the wheel and place it on the hub. Tighten the lug nuts 3. Install the wheel nuts and tighten handtight. Using the lug wrench, tighten ...