Performance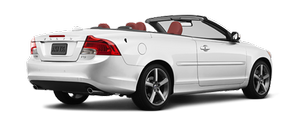 The C70 doesn't compete with the BMW M3s and Chevrolet Corvettes of the convertible world. It's more subdued than that, even when you get the top-of-the-line engine and option package like we tested in the T5 Inscription version.
The C70 gets satisfying, if not overwhelming, power from a 250-horsepower, turbocharged 2.5-liter inline-five-cylinder engine. It's mated to a five-speed automatic transmission that kicks down quickly when you need to pass. (Standard C70s get a 227-hp version of the turbocharged inline-five, also with a five-speed automatic.)
What I found most notable was that, because the transmission has only five gears and downshifts quickly, there was less lag before the power kicked in compared with other turbocharged engines I've driven. It didn't hunt around and have to shift through a lot of gears to get me the power I wanted.
With either engine, the C70 is estimated to get 18/28 mpg city/highway. Volvo recommends premium fuel for best performance, but using 87 octane will not affect engine reliability, according to the owner's manual.
To me, steering effort in the C70 is a positive as far as I consider it a luxury car. You don't get the feedback you get from a sports car — the steering is too overboosted for that — but it's also not a chore to drive at low speeds. It's definitely a member of the luxury cruiser class.
See also:
Loss of a remote key
If either of the remote keys is lost, the other should be taken with the car to a Volvo retailer. As an anti-theft measure, the code of the lost remote key must be erased from the system. NOTE ...
Types of lists used in the manual
Procedures Procedures (step-by-step instructions), or actions that must be carried out in a certain order, are arranged in numbered lists in this manual. 1 If there is a series of illustration ...
Heated oxygen sensors
The heated oxygen sensors monitor the oxygen content of the exhaust gases. Readings are fed into a control module that continuously monitors engine functions and controls fuel injection. The ratio ...