Spare wheel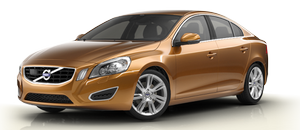 The following instructions only apply if you have purchased an accessory temporary spare wheel for your vehicle. If there is no temporary spare wheel in your vehicle, please see 284 for instructions on using the tire sealing system.
The accessory temporary spare wheel is provided in a bag that must be strapped in place in the trunk while the vehicle is being driven. Complete instructions are provided in an information booklet found inside the bag.
The spare wheel is only intended for temporary use. Replace it with a normal wheel as soon as possible. The car's handling may be altered by the use of the spare wheel. The correct tire pressure for the spare wheel is stated in the tire pressure table on page 275.

WARNING
Current legislation prohibits the use of the "Temporary Spare" tire other than as a temporary replacement for a punctured tire. It must be replaced as soon as possible by a standard tire. Road holding and handling may be affected with the "Temporary Spare" in use.
CAUTION
The vehicle must never be driven with more than one temporary spare wheel.
See also:
Volvo and the environment
Volvo is committed to the well being of its customers. As a natural part of this commitment, we care about the environment in which we all live. Caring for the environment means an everyday inv ...
Fuel filler door
Press the button on the light switch panel (see the illustration on page 268) when the vehicle is at a standstill to unlock the fuel filler door. Please note that the fuel filler door will remain ...
MY CAR
When the MY CAR symbol has been selected, the following menu alternatives are displayed. My S60 Support systems Settings My S60 The display shows all of the vehicle's driver su ...