Opening/closing the fuel cap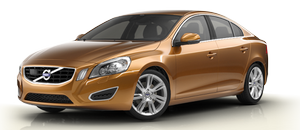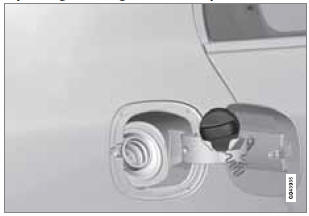 Fuel vapor expands in hot weather. Open the filler cap slowly.
After refueling, close the fuel filler cap by turning it clockwise until it clicks into place.
CAUTION
Do not refuel with the engine running2. Turn the ignition off or to position I. If the ignition is on, an incorrect reading could occur in the fuel gauge.
Avoid overfilling the fuel tank. Do not press the handle on the filler nozzle more than one extra time. Too much fuel in the tank in hot weather conditions can cause the fuel to overflow. Overfilling could also cause damage to the emission control systems.
See also:
R-design
The R-DESIGN is a sporty version of the Volvo C30 and most closely resembles the Volvo C30 Design Concept. Exterior design includes an R-DESIGN badge in the front grille, colour coordinated bodykit, ...
Opening the remote key/PCC
1 1 Slide the spring loaded catch to the side. 2 Pull the key blade straight out of the remote key. 2 3 Insert a small screwdriver in the hole behind the spring loaded catch and carefully pr ...
Design concept
The Volvo XC70 is the sportiest of all the XC models and the most capable off-road, so it has to look the part. Its design is tough, rugged and sporty. 'But we have also tried to make the design o ...