Setting a time interval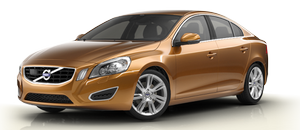 The set time interval to vehicles ahead can be increased by pressing

and decreased by pressing

. The current time interval is shown briefly in the display following adjustment.

Different time intervals can be selected and are shown in the display as 1–5 horizontal bars. The greater the number of bars, the longer the time interval.
One bar represents a time interval of approximately 1 second; 5 bars is approximately 2.5 seconds. At low speeds, when the distance to the vehicle ahead is short, ACC increases the time interval slightly. In order to follow the vehicle ahead as smoothly as possible, ACC allows the time interval to vary considerably in certain situations.

WARNING
Only use a time interval that is suitable in current traffic conditions.
A short time interval gives the driver limited reaction time if an unexpected situation occurs in traffic.

The number of bars indicating the selected time interval are shown while the setting is being made and for several seconds afterward. A smaller version of the symbol is then shown to the right in the display. The same symbol is also displayed when Distance Alert is in active mode, see page 165 .
See also:
Selecting a source for the rear screens from the front center control panel
An audio/video source for the rear screen(s) can be selected from the front center control panel. The same source can be selected for both rear screens or different sources can be selected for ...
Introduction
The Park Assist Camera uses the display in the center console to show the area behind the car while you are backing up. PAC also shows guiding lines in the on-screen image to indicate the direction ...
Adjusting
Adjusting the steering wheel 1 - Lever for releasing/locking the steering wheel 2 - Possible positions The steering wheel can be adjusted for both height and reach: 1. Pull the lever toward you ...