The alarm system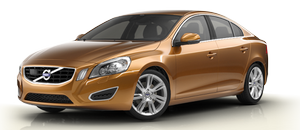 The alarm is automatically armed whenever the vehicle is locked with the remote key or optional Personal Car Communicator.
When armed, the alarm continuously monitors a number of points on the vehicle. The following conditions will trigger the alarm:
The hood is forced open.
The trunk is forced open
A door is forced open.
The ignition slot is tampered with.
An attempt is made to start the vehicle with a non-approved key (a key not coded to the car's ignition).
If there is movement in the passenger compartment (if the vehicle is equipped with the accessory movement sensor).
The vehicle is lifted or towed (if the vehicle is equipped with the accessory inclination sensor).
The battery is disconnected (while the alarm is armed).
The siren is disconnected when the alarm is disarmed.
A message will appear in the information display if a fault should occur in the alarm system. Contact a trained and qualified Volvo service technician.

NOTE
Do not attempt to repair any of the components in the alarm system yourself. This could affect the insurance policy on the vehicle.
See also:
Random
This function plays the tracks in random order (shuffle). The random tracks/sound files can be scrolled through in the normal way. To listen to tracks in random order: 1. Press OK/MENU, 2. Tur ...
Home safe lighting
When you leave your vehicle at night, you can make use of the home safe lighting function to illuminate the area in front of the vehicle. 1. Remove the key from the ignition slot. 2. Pull the tu ...
Safety
Volvos are renowned for their safety. This commitment is as old as the company itself. As Assar Gabrielsson, one of the founders of Volvo, declared: 'Cars are driven by people. The guiding principle ...