What is an Onboard Diagnostic System (OBD II)?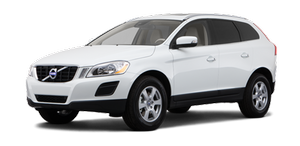 OBD II is part of your vehicle's computerized engine management system. It stores diagnostic information about your vehicle's emission controls. It can light the Check Engine light (MIL) if it detects an emission control "fault." A "fault" is a component or system that is not performing within an expected range. A fault may be permanent or temporary. OBD II will store a message about any fault.
See also:
Laminated glass
This glass is reinforced to help provide protection against break-ins and improved sound insulation in the passenger compartment. The windshield, laminated panoramic roof and other windows ...
Changing engine oil and oil filter
Refer to the Warranty and Service Records Information booklet for information on the oil change intervals. NOTE Volvo does not recommend the use of oil additives. Synthetic oil is not used when ...
New Tires
Remember that tires are perishable goods. As of 2000, the manufacturing week and year (Department of Transportation (DOT) stamp) will be indicated with 4 digits (e.g., 1510 means that the ti ...