Phone book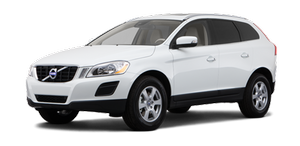 The hands-free system uses two phone books (one with the cell phone's list of contacts and one with contacts saved directly in the infotainment system), which are combined to form one phone book.
• The infotainment system downloads the phone book from a connected cell phone.
This phone book will only be displayed when this cell phone is connected to the hands-free system.
• The infotainment system also has an integrated phone book made up of contacts that have been saved in the system, regardless of which cell phone is currently connected when the contact is saved.
These contacts will be displayed regardless of the cell phone that is connected. If a contact has been saved in the infotainment system, the

symbol will be displayed next to it.
NOTE
Changes made from the infotainment system to a contact in the cell phone's phone book will result in a new contact being added to the infotainment system's phone book. However, this contact will not be saved in the cell phone's phone book. The infotainment system's display will show duplicate contacts with different icons.
Please also note that if a speed dial number is saved or if a contact's information is edited, this will result in a new contact in the infotainment system's phone book.
The

symbol must be displayed before the phone book can be used and the handsfree function must be in phone mode.
The infotainment system saves a copy of each paired cell phone's phone book. This phone book can be copied each time the phone is connected.
Activate/deactivate this function in phone mode in Phone menu

Phone settings

Download phone book.
If the phone book contains information about someone who is trying to call you, this information will be shown in the display.
See also:
Replacing fuses
There are relay/fuse boxes located in the engine compartment, the passenger compartment, and the cargo area. If an electrical component fails to function, this may be due to a blown fuse. The e ...
Engine and cooling system
Under special conditions, for example when driving in hilly terrain, extreme heat or with heavy loads, there is a risk that the engine and cooling system will overheat. Proceed as follows to avoid ...
Storing preset stations
Ten preset stations can be stored for each waveband (AM, FM1, etc.). Stored preset stations are selected using the number key buttons on the center console. Manually storing preset stations 1. ...