Searching for contacts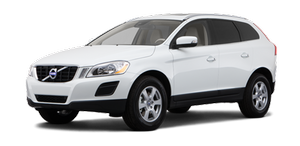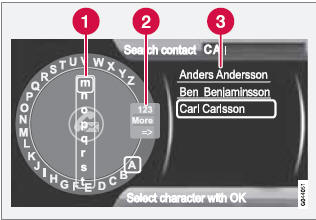 Searching for contacts using the text wheel
1 List of characters
2 Switch between character entry modes (see the following table)
3 Phone book (list of contacts)
To search for or edit a contact in phone mode, go to Phone menu

Phone book

Search.
1. Turn TUNE to the desired letter and press OK/MENU to confirm. The number/letter keys on the center console can also be used.
2. Continue to the next letter, etc. The results of the search will be displayed in the phone book (3).
3. To switch from letter entry mode to the entry mode for numbers or special characters, or to go to the phone book, turn TUNE to one of the selections (see the explanation in the following table) in the list for switching character entry mode (2) and press OK/MENU.
Character entry modes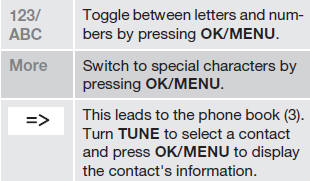 Press EXIT briefly to erase a single character.
Press and hold EXIT to erase all of the characters that have been entered.
If a number button on the center console is pressed while the text wheel is displayed, a list of characters (1) will be displayed. Briefly press the button once to enter its first letter, twice to enter the second letter, etc. Continue to press the button to display other characters. Continue with the next character, etc.
To enter a number, press and hold the button.
See also:
Equalizer
Equalizer FR EQ – FRONT (certain audio systems) This function is used to fine-tune the sound from the front speakers. 1. Select AUDIO SETTINGS in the menu and press ENTER. 2. Select Equalizer ...
Retractable power door mirrors
The mirrors can be retracted for parking/driving in narrow spaces: 1. Press down the L and R buttons at the same time. 2. Release them after approximately one second. The mirrors automatically stop ...
BRAKE – Brake failure warning light
If the light comes on while driving or braking, stop immediately, open the hood and check the brake fluid level in the reservoir. Canadian models are equipped with this warning light. ...