Searching for contacts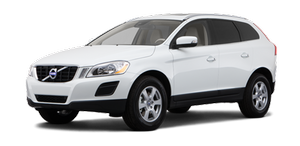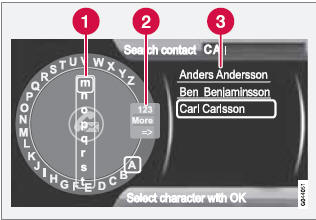 Searching for contacts using the text wheel
1 List of characters
2 Switch between character entry modes (see the following table)
3 Phone book (list of contacts)
To search for or edit a contact in phone mode, go to Phone menu

Phone book

Search.
1. Turn TUNE to the desired letter and press OK/MENU to confirm. The number/letter keys on the center console can also be used.
2. Continue to the next letter, etc. The results of the search will be displayed in the phone book (3).
3. To switch from letter entry mode to the entry mode for numbers or special characters, or to go to the phone book, turn TUNE to one of the selections (see the explanation in the following table) in the list for switching character entry mode (2) and press OK/MENU.
Character entry modes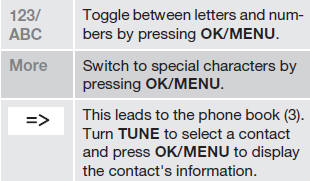 Press EXIT briefly to erase a single character.
Press and hold EXIT to erase all of the characters that have been entered.
If a number button on the center console is pressed while the text wheel is displayed, a list of characters (1) will be displayed. Briefly press the button once to enter its first letter, twice to enter the second letter, etc. Continue to press the button to display other characters. Continue with the next character, etc.
To enter a number, press and hold the button.
See also:
Erasing HomeLink Buttons
To erase programming from the three Home- Link buttons (individual buttons cannot be erased but can be "reprogrammed" as outlined below), follow the step noted: 1. Press and hold the two outer H ...
Uniform Tire Quality Grading
Quality grading information ALL PASSENGER VEHICLE TIRES MUST CONFORM TO FEDERAL SAFETY REQUIREMENTS IN ADDITION TO THESE GRADES Quality grades can be found, where applicable, on the tire sid ...
Weight distribution affects handling
At the specified curb weight your vehicle has a tendency to understeer, which means that the steering wheel has to be turned more than might seem appropriate for the curvature of a bend. This ...