Adding a new contact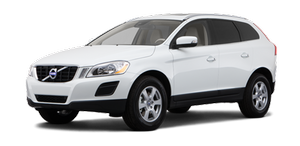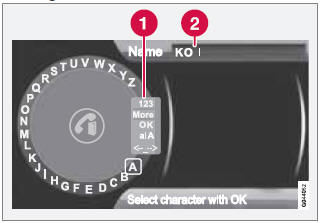 Enter the name of a new contact
1 Switch between character entry modes (see the following table)
2 Character entry field
New contacts can be added in phone mode in Phone menu

Phone book

New contact.
1. When Name is highlighted, press OK/ MENU to go to the character entry mode (see the illustration).
2. Turn TUNE to the desired letter and press OK/MENU to confirm. The number/letter keys on the center console can also be used.
3. Continue to the next letter, etc. The name entered will be displayed in the character entry field (2).
4. To switch from letter entry mode to the entry mode for numbers or special characters, or to toggle between upper and lower case letters, etc., turn TUNE to one of the selections (see the explanation in the following table) in the list (1) and press OK/ MENU.
When you have finished entering the name, select OK in the list in the display (1) and press OK/MENU. Continue by entering the phone number in the same way.
When you have entered the phone number, press OK/MENU and select a tag for the number (Mobile phone, Home, Work or General). Press OK/MENU to confirm.
When all of the contact's information has been entered, select Save contact in the menu to save.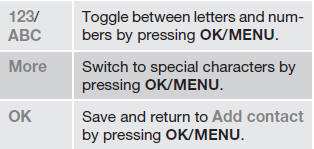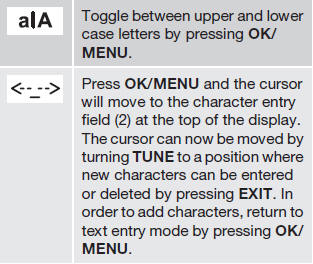 See also:
Laminated glass
This glass is reinforced to help provide protection against break-ins and improved sound insulation in the passenger compartment. The windshield, laminated panoramic roof and other windows ...
Fuel Formulations
Do not use gasoline that contains lead as a knock inhibitor, and do not use lead additives. Besides damaging the exhaust emission control systems on your vehicle, lead has been strongly linked to ...
Driving after a collision
If the vehicle has been involved in a collision, the text Safety mode See manual may appear in the information display. This indicates that the vehicle's functionality has been reduced. NOTE ...