Marker lines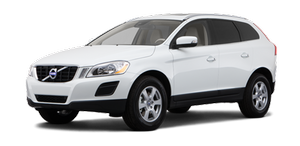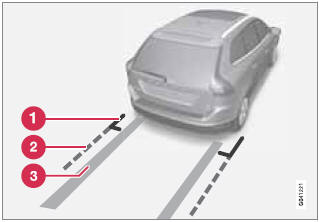 The PAC system's lines
1 Marker line for a 1-foot (30-centimeter) zone behind the vehicle
2 Marker line for the clear back-up zone
3 "Wheel tracks"
The solid line (1) indicates a zone within 1 ft (30 centimeters) of the rear bumper.
The dashed line (2) indicates the clear zone of approximately 5 feet (1.5 m) behind the bumper. These lines also indicate the outmost limits that any object (door mirrors, corners of the body, etc.) extends out from the vehicle , even when the it turns.
The "wheel tracks" (3) between the side marker lines show where the wheels will roll and can extend up to approximately 10.5 ft (3.2 m) behind the bumper if there are no objects in the way.
See also:
Switching off the engine
With the engine running, press the START/ STOP ENGINE button. If the gear selector is not in the P position or if the vehicle is moving, press the button twice or press and hold it in until the ...
Introduction
The park assist system is designed to assist you when driving into parking spaces, garages, etc. It utilizes ultrasound sensors in the front bumper and rear bumper(s) to measure the distance to a ...
2011 Volvo C30 Review
I really enjoyed the 2011 Volvo C30. It's fun to drive, has an excellent interior and it looks great after its recent redesign. Now, if you're the sort of person who has to have a reason for every ...