Marker lines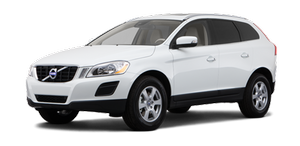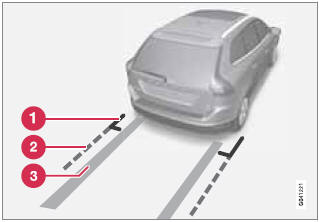 The PAC system's lines
1 Marker line for a 1-foot (30-centimeter) zone behind the vehicle
2 Marker line for the clear back-up zone
3 "Wheel tracks"
The solid line (1) indicates a zone within 1 ft (30 centimeters) of the rear bumper.
The dashed line (2) indicates the clear zone of approximately 5 feet (1.5 m) behind the bumper. These lines also indicate the outmost limits that any object (door mirrors, corners of the body, etc.) extends out from the vehicle , even when the it turns.
The "wheel tracks" (3) between the side marker lines show where the wheels will roll and can extend up to approximately 10.5 ft (3.2 m) behind the bumper if there are no objects in the way.
See also:
Trip computer
A READ (press to acknowledge/confirm/erase a message) B Thumb wheel (used to scroll among the trip computer menus) C RESET The trip computer stores information gathered from several systems in ...
Spare wheel
The following instructions only apply if you have purchased an accessory temporary spare wheel for your vehicle. If there is no temporary spare wheel in your vehicle, please see 284 for instructio ...
Changing wheels with TPMS
Please note the following when changing or replacing the factory installed TPMS wheels/ tires on the vehicle: Only the factory-mounted wheels are equipped with TPMS sensors in the valves. If t ...