Marker lines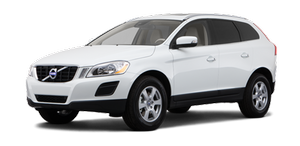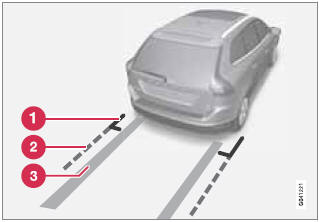 The PAC system's lines
1 Marker line for a 1-foot (30-centimeter) zone behind the vehicle
2 Marker line for the clear back-up zone
3 "Wheel tracks"
The solid line (1) indicates a zone within 1 ft (30 centimeters) of the rear bumper.
The dashed line (2) indicates the clear zone of approximately 5 feet (1.5 m) behind the bumper. These lines also indicate the outmost limits that any object (door mirrors, corners of the body, etc.) extends out from the vehicle , even when the it turns.
The "wheel tracks" (3) between the side marker lines show where the wheels will roll and can extend up to approximately 10.5 ft (3.2 m) behind the bumper if there are no objects in the way.
See also:
Traction control (TC)
This function is designed to help reduce wheel spin by transferring power from a drive wheel that begins to lose traction to the wheel on the opposite side of the vehicle (on the same axle). TC ...
Speed-dependent steering force*
Steering force increases with the speed of the vehicle to give the driver enhanced sensitivity. At low speed the vehicle is easy to steer in order to facilitate parking, etc. Steering force can b ...
The alarm system
The alarm is automatically armed whenever the vehicle is locked with the remote key or optional Personal Car Communicator. When armed, the alarm continuously monitors a number of points on the ...