Warning light—driver braking required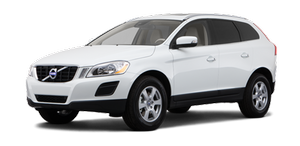 Adaptive Cruise Control can exert brake force that is equivalent to approximately 40% of the vehicle's total braking capacity. In situations requiring more brake force than ACC can provide and if the driver does not apply the brakes, an audible signal from the Collision Warning system will sound and warning light will illuminate (see page 173) in the windshield to alert the driver to react.
NOTE
Strong sunlight, reflections, extreme light contrasts, the use of sunglasses, or if the driver is not looking straight ahead may make the visual warning signal in the windshield difficult to see.
WARNING
Adaptive Cruise Control only warns of vehicles detected by the radar sensor, see page 159. In some cases there may be no warning or the warning may be delayed. The driver should always apply the brakes when necessary.
See also:
RSE rear screen menus
Press on the remote control when a source (e.g., Disc) has been selected to access the RSE-menus for the rear screens. Use the scroll wheel and the buttons on the remote to make menu selecti ...
How do states use OBD II for emission inspections?
Many states connect a computer directly to a vehicle's OBD II system. The inspector can then read "faults." In some states, this type of inspection has replaced the tailpipe emission ...
Rear screen menu settings
See also page 251 for additional information about the RSE menus. DivX® Video On Demand The media player can be registered to play DivX VOD files from home-burned discs or USB. The registratio ...