Convertible Positives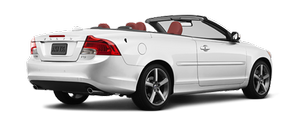 It takes about 30 seconds to raise or lower the power-retractable hardtop. It motors up and down smoothly and quietly, which isn't common, even among luxury models. And in what was the most welcome attribute for me, the C70 doesn't require a lot of open space behind the car for that process to take place. Many other retractable hardtops tilt their trunk lids far back, risking damage.
Visibility with the top up is very good, which is unusual in a convertible. Most have a small rear window or a larger rear roof-support pillar. The C70 is afflicted with neither issue. It has the best visibility of any convertible I've tested with its roof raised. Road noise is also minimal, especially for a convertible. Overall, among convertibles the C70 is one of the best at acting like a fixed-roof car — in a good way.
Finally, Volvo put some thought into the trunk. With the top up, the C70 has room that compares favorably with many compact cars. That's significant, as sometimes the hardware necessary to raise and lower a roof cuts into trunk space no matter what position the roof is in.
As is the case with most retractable hardtops, when the roof is down trunk space is restricted to the size of two backpacks. It's a small area buried under a partition that must be locked down before the powered roof will operate.
However, with the top down the C70 has a feature that would be welcome in any hardtop convertible: a trunk "expander." It motors the roof panels up and out of your way so you can raise the partition a bit, slip something into the cargo area, then close the cover and motor the top back into the trunk. It's a clever system that owners will probably use more than they initially think they might.
See also:
Indicator, information, and warning symbols
Indicator and warning symbols 1 - High beam and turn signal indicators 2 - Indicator and warning symbols 3 - Information symbols 4 - Indicator and warning symbols ...
When does BLIS function
The system functions when your vehicle is moving at speeds above 6 mph (10 km/h). When you pass another vehicle: The system reacts when you pass another vehicle at a speed of up to 6 mph (10 km/h) ...
Automatic locking
When the vehicle starts to move, the doors and tailgate can be locked automatically. This feature can be turned on or off by pressing MY CAR and going to Car settings Lock settings Aut ...