Adjusting the set speed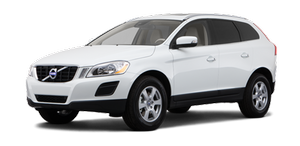 After a speed has been set, it can be increased or decreased by using the

or

buttons.
1. Press and hold down

or

until the vehicle reaches the desired speed.
> This will become the set speed when the button is released.
2. Press

or

for approximately a half second and release the button to increase or decrease vehicle speed by approximately 1 mph (1.6 km/h).
NOTE
Х A temporary increase in speed by pressing the accelerator pedal, for less than 1 minute (e.g. when passing another car), does not affect the current cruise control setting. The vehicle will automatically return to the previously set speed when the accelerator pedal is released.
Х If one of the cruise control buttons is kept depressed for more than approx.
1 minute cruise control is disengaged.
The engine must then be switched off in order to reset cruise control.
See also:
FAVЧstoring a shortcut
The FAV button can be used to store frequently used functions, making it possible to start the stored function by simply pressing FAV. One favorite (for example, Equalizer) can be programmed ...
Unlocking a channel
A channel's access code is required to unlock a channel. Unlock all channels This permanently removes all channels from the locked list and makes them available for selection. Temporarily unl ...
Manually unlocking the fuel filler door
Panel on passenger's side of cargo area To manually unlock the fuel filler door 1. Open the upper and lower sections of the tailgate, and fold up the rear section of the cargo area floor. 2. If ...