Manual locking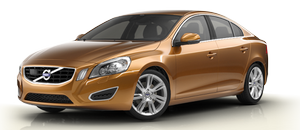 In certain situations (e.g., if there is no electrical current in the vehicle), the doors can be locked manually.
The detachable key blade (see page 59) can be used in the lock cylinder in the driver's door to lock that door.
The other doors do not have lock cylinders and the slot on the rear edge of each door has to be used to lock it. This will lock the door from the outside but it can still be opened from inside the vehicle. To do so: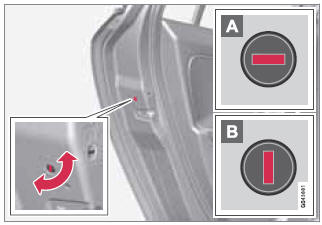 Manually locking a door
Insert the key blade into the slot and turn it 90 degrees to lock that door (the slot in a particular door locks that door only).
A In the horizontal position, the door cannot be opened from the outside.
B In the vertical position, the door can be opened from the inside and the outside.

NOTE
If the manual child safety lock (see page 51) is activated for a rear side door and that door is also locked manually, the door cannot be opened from the outside or inside. The door can only be unlocked with the remote key or the central locking button.
See also:
Headlight housing
The entire headlight housing must be lifted out when replacing all front bulbs. CAUTION Never touch the glass of bulbs with your fingers. Grease and oils from your fingers vaporize in the he ...
Low beam, Halogen
1. Remove the headlight housing from the vehicle (see page 306). 2. Remove the cover over the bulbs (see page 308). 3. Unplug the connector from the bulb. 4. Remove the bulb by pulling it straigh ...
Pedestrian safety
The Volvo V50 Sportswagon has been designed to minimise the risk of injury to pedestrians and cyclists in the event of an accident. The smoothly shaped front has an energy-absorbing structure ahea ...