Confirmation when locking/unlocking the vehicle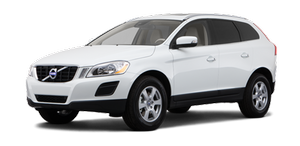 Settings can be made in the menu system for audible and visual confirmation when the vehicle has been locked or unlocked. With these functions activated, the following will occur when the vehicle is locked/unlocked:
Locking confirmation
Х The turn signals flash once, an audible signal sounds and the door mirrors will fold* in.
Confirmation will only be given when all doors and the tailgate are properly closed and locked.
NOTE
If you do not receive confirmation when locking the vehicle, check whether a door or the tailgate is ajar, or if this feature has been turned off in the menu.
Unlocking confirmation
Х The turn signals will flash twice and the door mirrors will fold* out.
Making a setting
Different alternatives for locking/unlocking confirmation can be selected in the menus by pressing MY CAR on the center console control panel.
Х To activate visual confirmation: go to Settings

Car settings

Light settings and select Door lock confirmation light and/or Unlock confirmation light by pressing OK/ MENU.
Х To activate audible confirmation: go to Settings

Car settings

Lock settings and select Audible confirmation by pressing OK/MENU.
See page 133 for a description of the menu system.
See also:
Economical driving conserves natural resources
Better driving economy may be obtained by thinking ahead, avoiding rapid starts and stops and adjusting the speed of your vehicle to immediate traffic conditions. Observe the following rules: B ...
Turn signals
1. Remove the headlight housing from the vehicle (see page 322). 2. Remove the bulb holder by turning it counterclockwise and pulling it out of the headlight housing. 3. Pull out the holder ...
Water on brake discs and brake padsaffects braking
Driving in rain and slush or passing through an automatic car wash can cause water to collect on the brake discs and pads. This will cause a delay in braking effect when the pedal is depressed. To ...