Situations where ACC may not function optimally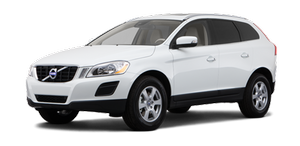 WARNING
Х The radar sensor has a limited field of vision. In some situations it may detect a vehicle later than expected or not detect other vehicles at all.
Х If ACC is not functioning properly, cruise control will also be disabled.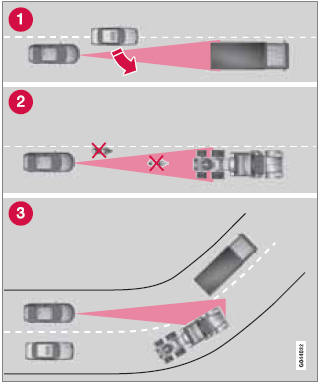 Radar sensor's field of vision (shown in pink)
1 In certain situations, the radar sensor cannot detect vehicles at close quarters, for example a vehicle that suddenly enters the lane between your vehicle and the target vehicle.
2 Small vehicles, such as motorcycles, or vehicles not driving in the center of the lane may remain undetected.
3 In curves, the radar sensor may detect the wrong vehicle or lose sight of the target vehicle.
WARNING
Х Adaptive Cruise Control cannot cover all driving situations and traffic, weather and road conditions. The "Function" section provides information about limitations that the driver must be aware of before using this feature.
Х This system is designed to be a supplementary driving aid. It is not, however, intended to replace the driver's attention and judgement. The driver is responsible for maintaining a safe distance and speed and must intervene if Adaptive Cruise Control does not maintain a suitable speed or suitable distance to the vehicle ahead.
Х Maintenance of ACC components may only be performed by a trained and qualified Volvo technician.
WARNING
Х Adaptive Cruise Control is not a collision avoidance system. The driver is always responsible for applying the brakes if the system does not detect another vehicle.
Х Adaptive Cruise Control does not react to people or animals, or small vehicles such as bicycles and motorcycles. It also does not react to slow moving, parked or approaching vehicles, or stationary objects.
Х Do not use Adaptive Cruise Control in demanding driving conditions such as city driving or other heavy traffic situations, in slippery conditions, when there is a great deal of water or slush on the road, during heavy rain or snow, in poor visibility, on winding roads or on highway on- or off-ramps.
See also:
Quality and equipment
In the Volvo XC90 considerable importance has been attached to providing a comprehensive standard specification to reflect the upmarket ambience of the car itself. Luxurious touches such as the ...
Touching up paintwork
Paint code on the model plate Paint damage requires immediate attention to avoid rusting. Make it a habit to check the finish regularly, for instance washing the vehicle. Touch-up if necessary ...
General information
This system consists of inflatable curtains located along the sides of the roof liners, stretching from the center of both front side windows to the rear edge of the rear side door windows. It i ...