The radar sensor and its limitations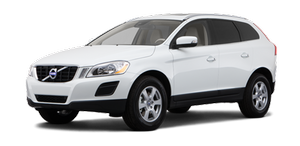 In addition to being used by ACC, the radar sensor is also used by Distance Alert (see page 164) and Collision Warning with Full Auto-brake and Pedestrian Detection (see page 172). This sensor is designed to detect cars or larger vehicles driving in the same direction as your vehicle, in the same lane.
WARNING
Accessories or other objects, such as extra headlights, must not be installed in front of the grille.
Modification of the radar sensor could make its use illegal.
The radar sensor's capacity to detect vehicles ahead is impeded:
• if the radar sensor is obstructed and cannot detect other vehicles, for example in heavy rain, or if snow or other objects are obscuring the radar sensor.
NOTE
Keep the area in front of the radar sensor clean.
• if the speed of vehicles ahead is significantly different from your own speed.
See also:
Safety
Volvo's commitment to safety is as old as the company itself. As Assar Gabrielsson, one of the founders of Volvo, declared: "Cars are driven by people. The guiding principle behind everything ...
Pairing and connecting an external device
Before an external device can be connected, it must be paired to the infotainment system. The procedure for connecting an external device varies, depending whether or not the device has previously ...
Spare wheel
The following instructions only apply if you have purchased an accessory temporary spare wheel for your vehicle. If there is no temporary spare wheel in your vehicle, please see 284 for instructio ...