The radar sensor and its limitations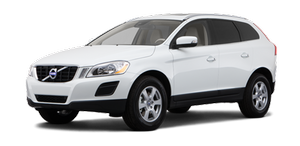 In addition to being used by ACC, the radar sensor is also used by Distance Alert (see page 164) and Collision Warning with Full Auto-brake and Pedestrian Detection (see page 172). This sensor is designed to detect cars or larger vehicles driving in the same direction as your vehicle, in the same lane.
WARNING
Accessories or other objects, such as extra headlights, must not be installed in front of the grille.
Modification of the radar sensor could make its use illegal.
The radar sensor's capacity to detect vehicles ahead is impeded:
• if the radar sensor is obstructed and cannot detect other vehicles, for example in heavy rain, or if snow or other objects are obscuring the radar sensor.
NOTE
Keep the area in front of the radar sensor clean.
• if the speed of vehicles ahead is significantly different from your own speed.
See also:
2011 Volvo S60 Review
I'd been waiting, hoping and wishing that I'd get the opportunity to drive Volvo's highly anticipated redesigned 2011 S60. I'm having a love affair with sedans now that my kids are old enough to g ...
Advanced
In this mode, body sway in curves is minimal and steering response is very direct. Gear shifting is done at high rpm in each gear for dynamic and active driving. ...
Getting Around
The C30 is a fun car to drive. It has a 227-horsepower, turbocharged five-cylinder engine that makes 236 pounds-feet of torque, which is a lot of power for such a small car. It's estimated to get ...