Driving Dynamics: Chassis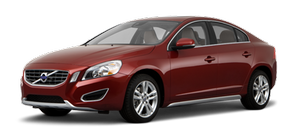 The compact Volvo V50 Sportswagon delivers an engaging, dynamic driving experience with a high level of active safety. To achieve this, it makes use of a sophisticated suspension system, a high level of torsional rigidity, a wide track and the latest electronic stability systems.
"A modern Volvo should obey the driver's slightest command - immediately and without fuss," says Peter Ewerstrand, the Volvo V50 project manager. "It should be as enjoyable to drive as it is safe. We had particularly high ambitions for the Volvo V50 and we're more than pleased with the result. This is a car you'll truly look forward to driving whenever you get the chance."
To maximise driving pleasure, a Dynamic chassis and Rally Bar (front strut stiffener) are fitted to R-Design Sport and R-Design SE Sport models (except 1.8) and all T5 variants.
The body of the Volvo V50 is 34 per cent stiffer than that of its Volvo V40 predecessor thanks to advanced body design and the use of high-strength materials, including Ultra High-Strength Boron Steel. This high level of torsional rigidity allows the suspension to do its job properly and its provision was integral to the car's design. It benefits not only the ride and handling characteristics of the Volvo V50, but also its crashworthiness.
A further contribution to the Volvo V50's exceptional stability is provided by the wide track (1535mm front, 1531mm rear) and long wheelbase (2640mm). The former helps improve the car's balance, enabling it to cope with high cornering forces, while providing clear and consistent feedback to the driver.
The long wheelbase, meanwhile, contributes to a balanced weight distribution with a low minimal moment of inertia. In practical terms, this enhances the steering response and helps ensure that the Volvo V50 responds in a controlled, predictable manner in all circumstances, making a major contribution to active safety.
See also:
Driving Dynamics: Engines
The new Volvo V50 Sportswagon is available with a range of eight modern engines, including three diesels, that reflect its role as a premium alternative. Two engines joined the range for 2007: a 1 ...
Dimensions–S60
...
Introduction
The RSE system can be used at the same time as the vehicle's audio system. When the rear seat passengers play a DVD, connect an external device to the RSE AUX connectors, etc., and listen to the ...