Compatible formats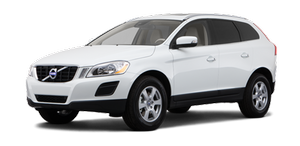 The media player can play a number of different types of files and disc formats, and is compatible with the formats listed in the following table.
NOTE
Dual format (double-sided discs) such as DVD Plus or CD-DVD are thicker than normal discs and may not play in your infotainment system.
If a disc containing both CDDA and MP3 tracks is played, all MP3 tracks will be ignored.

See also:
Behind the wheel
Driving the XC70's turbocharged 3.0-liter V-6 took some getting used to. I appreciated the surprisingly zippy kick-in-the-pants feel, as opposed to the sluggishly heavy acceleration I anticipated ...
External sound sources
USB flash drive To simplify the use of a USB flash drive, it is advisable to only store music files on the drive. It will take considerably longer for the system to index the files on the drive ...
Immobilizer (start inhibitor)
Each of the keys supplied with your vehicle contains a coded transponder. The code in the key is transmitted to an antenna in the ignition slot where it is compared to the code stored in the s ...