Station search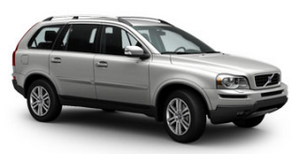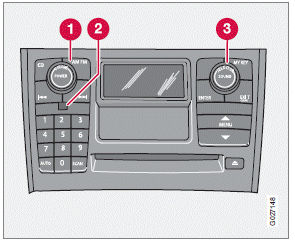 1. Choose radio mode AM/FM1/FM2 using the SELECTOR control (3) or the AM/FM button (1).
2. Press briefly on

to search for the next strong station. The radio will search for the next audible station and then stop.
3. Press one of the buttons again to start a new search.
Manually search for a known frequency
1. Press and hold the

button (or the corresponding buttons on the steering wheel keypad). MAN will be shown in the display. The radio will slowly scroll in the desired direction and then increase speed after a few seconds.
2. Release the button when the desired frequency is displayed.
3. If you need to adjust the frequency, press briefly on

.
The manual search function is available for five seconds after you last pressed the button.
See also:
IR-reflecting windshield
Section of the windshield where the IR-coating is not applied An optional factory-installed infrared (IR) coating can be applied to the windshield to help protect the cabin from the sun's hea ...
Fast forward/reverse
Press and hold the buttons to fast forward/reverse. This is done at one speed for audio files but several speeds can be chosen for video files. Press the buttons several times to increas ...