Replacing the high beam bulb (halogenheadlights)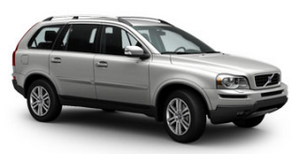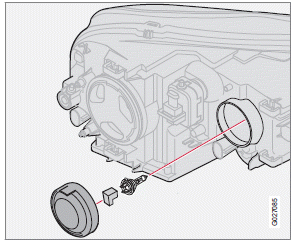 1. Remove the rubber cover by pulling it off.
2. Pull the connector from the lamp housing.
3. Loosen the bulb's retaining spring by first moving it to the right and then moving it out of the way.
4. Pull out the bulb from the holder.
5. Insert the new bulb (without touching the glass) in the holder.
6. Move the retaining spring up and push it slightly to the left until it seats properly.
7. Press the bulb holder into place on the headlight housing.
8. Press the rubber cover into place.
See also:
Vanity mirror lighting
Removing the mirror glass 1. Insert a screwdriver underneath the lower edge, in the center, turn and carefully pry up the lug on the edge. 2. Carefully detach and lift out the entire mirror glas ...
Tire Pressure Monitoring System (TPMS)
Introduction NOTE USA – FCC ID: KR5S122780002 This device complies with part 15 of the FCC rules. Operation is subject to the following conditions: (1) This device may not cause harmful inter ...
Environment
Volvo is passionately committed to protecting our environment. Along with safety, environmental protection is a cornerstone of the Volvo brand, commensurate with the company's philosophy to protect ...