Disconnecting the cell phone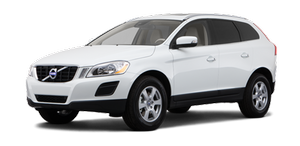 The cell phone is automatically disconnected from the infotainment system if it is moved out of range.
The cell phone can be manually disconnected from the hands-free system by pressing and holding TEL or in phone mode, going to Phone menu

Disconnect phone. See also page 236 for more information about connections.
The hands-free system is also deactivated when the ignition is switched off (or if the driver's door is opened on vehicles equipped with the optional keyless drive).
When the cell phone is disconnected from the hands-free system, a call in progress can be continued using the cell phone's own speaker and microphone.
Even if the cell phone has been disconnected manually, some phones may reconnect automatically to the most recently used hands-free unit, for example when a new call is initiated.
See also:
R-design
The R-DESIGN is a sporty version of the Volvo C30 and most closely resembles the Volvo C30 Design Concept. Exterior design includes an R-DESIGN badge in the front grille, colour coordinated bodykit, ...
Engine oil
Although some oil consumption occurs during normal engine operation, more oil is consumed when the engine is new as the internal parts generate higher friction while wearing-in to each other. From ...
Interior Design
While the exterior of the Volvo S40 could be described as evolutionary from the S60 and S80, the interior represents nothing less than a revolution in car design. Its focal point is an ultra-thin ...