Power steering fluid reservoir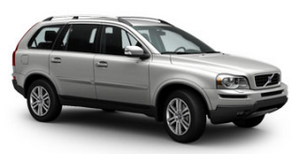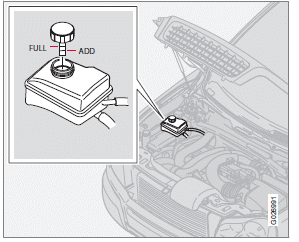 The fluid level should always be between the ADD and FULL marks.
Fluid type: Volvo synthetic power steering fluid (Pentosin CHF 11S) P/N 1161529 or equivalent.
Replace: No fluid change required.
If a problem should occur in the power steering system or if the vehicle has no electrical current and must be towed, it is still possible to steer the vehicle. However, keep in mind that greater effort will be required to turn the steering wheel.
See also:
Design
The new Volvo C70 is a modern, handsome, sports vehicle designed to look good roof up or down. 'The use of a hard-top instead of soft-top gives us a big advantage in style,' says Volvo's British-b ...
Unlocking/locking
Unlocking 1. Insert the remote key into the ignition slot as far as possible. 2. Press the START/STOP ENGINE button. > A sound will be audible when the lock releases. Vehicles with keyless driv ...
Overview
At its launch in early 2006, the Volvo C70 broke new ground as the world's first four seater convertible with a retractable hard top. Now, more than three years on, the new Volvo C70 coupe/convert ...