Brake fluid reservoir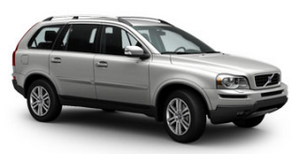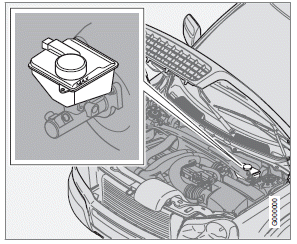 The brake fluid should always be above the MIN mark on the side of the reservoir. Check, without removing the cap, that there is sufficient fluid in the reservoir.
Fluid type: DOT 4+ boiling point >536 °F (>280 °C), P/N 9437433.
Replace: Every second year or 30,000 miles (48,000 km). The fluid should be replaced once a year or every 15,000 miles (24,000 km) when driving under extremely hard conditions (mountain driving, etc.).
Always entrust brake fluid changing to a trained and qualified Volvo service technician.
WARNING
• If the fluid level is below the MIN mark in the reservoir or if a brake-related message is shown in the information display: DO NOT DRIVE. Have the car towed to a trained and qualified Volvo service technician and have the brake system inspected.
• Dot 4+ should never be mixed with any other type of brake fluid.
See also:
Child safety
A passenger airbag cut off switch is available to enable a child seat to be carried in the front of the car, while, in the rear, Volvo has also paid special attention to child safety. Two integr ...
Hoisting the vehicle
If a garage jack is used to lift the vehicle, the two jack attachments points should be used. They are specially reinforced to bear the weight of the vehicle. A garage jack can also be placed ...
Operation
The seats can be adjusted for a short period after unlocking the door with the remote control without the key in the ignition slot. Seat adjustment is normally made when the ignition is on and can ...