Oil specifications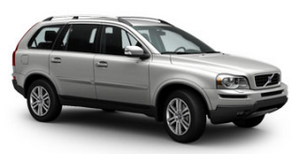 Engine oil must meet the minimum ILSAC specification GF-4, API SL, or ACEA A1/B1.
Lower quality oils may not offer the same fuel economy, engine performance, or engine protection.
Depending on your driving habits, premium or synthetic oils may provide superior fuel economy and engine protection. Consult your Volvo retailer or a trained and qualified Volvo service technician for recommendations on premium or synthetic oils.
Oil additives must not be used.
NOTE
Synthetic oil is not used when the oil is changed at the normal maintenance services.
This oil is only used at customer request, at additional charge. Please consult a trained and qualified Volvo service technician.
Oil viscosity
Incorrect viscosity oil can shorten engine life under normal use. SAE 5W-30 will provide good fuel economy and engine protection. See the viscosity chart.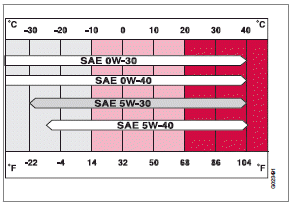 Viscosity chart
Extreme engine operation
Synthetic oils meeting SAE 0W-30 or 0W-40 and complying with oil quality requirements are recommended for driving in areas of sustained temperature extremes (hot or cold), when towing a trailer over long distances, and for prolonged driving in mountainous areas.
American Petroleum Institute (API) symbol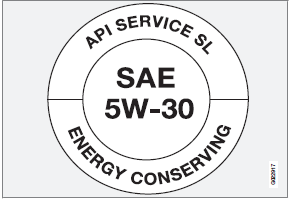 American Petroleum Institute (API) symbol
The API Service Symbol "donut" is divided into three parts:
Х The upper section describes the oil's performance level.
Х The center identifies the oil's viscosity.
Х The lower section indicates whether the oil has demonstrated energy-conserving properties in a standard test in comparison to a reference oil.
NOTE
Volvo uses different systems to indicate a low oil level or pressure. Some models have an oil pressure sensor, in which case a warning symbol (see page 60) is used to indicate low oil pressure. Other models have an oil level sensor, in which case the driver is alerted by the warning symbol in the center of the instrument panel and a text in the information display. Some models use both systems. Contact a trained and qualified Volvo service technician for more information.
See also:
Driver distraction
A driver has a responsibility to do everything possible to ensure his or her own safety and the safety of passengers in the vehicle and others sharing the roadway. Avoiding distractions is part of ...
Getting Around
The C30 is a fun car to drive. It has a 227-horsepower, turbocharged five-cylinder engine that makes 236 pounds-feet of torque, which is a lot of power for such a small car. It's estimated to get ...
Overview
With dynamic design, high quality and class-leading safety, the Volvo S40 saloon is a true Volvo and one that asserts a unique identity in the growing premium compact class. Boasting a four-door ...