Oil specifications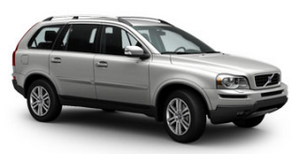 Engine oil must meet the minimum ILSAC specification GF-4, API SL, or ACEA A1/B1.
Lower quality oils may not offer the same fuel economy, engine performance, or engine protection.
Depending on your driving habits, premium or synthetic oils may provide superior fuel economy and engine protection. Consult your Volvo retailer or a trained and qualified Volvo service technician for recommendations on premium or synthetic oils.
Oil additives must not be used.
NOTE
Synthetic oil is not used when the oil is changed at the normal maintenance services.
This oil is only used at customer request, at additional charge. Please consult a trained and qualified Volvo service technician.
Oil viscosity
Incorrect viscosity oil can shorten engine life under normal use. SAE 5W-30 will provide good fuel economy and engine protection. See the viscosity chart.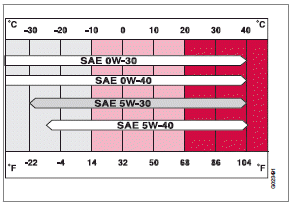 Viscosity chart
Extreme engine operation
Synthetic oils meeting SAE 0W-30 or 0W-40 and complying with oil quality requirements are recommended for driving in areas of sustained temperature extremes (hot or cold), when towing a trailer over long distances, and for prolonged driving in mountainous areas.
American Petroleum Institute (API) symbol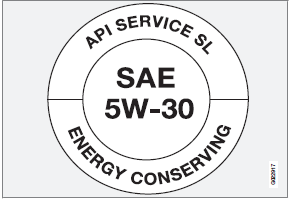 American Petroleum Institute (API) symbol
The API Service Symbol "donut" is divided into three parts:
Х The upper section describes the oil's performance level.
Х The center identifies the oil's viscosity.
Х The lower section indicates whether the oil has demonstrated energy-conserving properties in a standard test in comparison to a reference oil.
NOTE
Volvo uses different systems to indicate a low oil level or pressure. Some models have an oil pressure sensor, in which case a warning symbol (see page 60) is used to indicate low oil pressure. Other models have an oil level sensor, in which case the driver is alerted by the warning symbol in the center of the instrument panel and a text in the information display. Some models use both systems. Contact a trained and qualified Volvo service technician for more information.
See also:
Refrigerator
The refrigerator is located under the cover in the front seat center armrest. Use the button (see the inset illustration) to adjust the level of cooling. The refrigerator functions when the en ...
Volvo programs
Volvo On Call Roadside Assistance Your new Volvo comes with a four year ON CALL roadside assistance. Additional information, features, and benefits are described in a separate information packa ...
Seat belt use during pregnancy
The seat belt should always be worn during pregnancy. But it is crucial that it be worn in the correct way. The diagonal section should wrap over the shoulder then be routed between the breasts ...