Hoisting the vehicle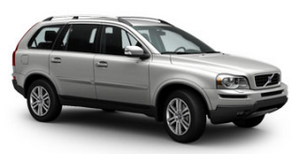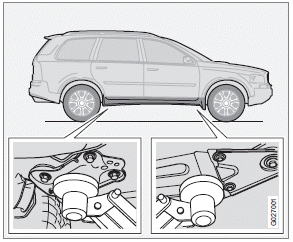 If a garage jack is used to lift the vehicle, the two jack attachments points should be used.
They are specially reinforced to bear the weight of the vehicle (see the illustration). A garage jack can also be placed under the front of the engine support frame. Take care not to damage the splash guard under the engine. Ensure that the jack is positioned so that the vehicle cannot slide off it. Always use axle stands or similar structures. The vehicle's gross vehicle weight is between 5770 lbs (2630 kg) and 6080 lbs (2760 kg). Use a jack and stands rated for this weight.
If a two-post hoist is used to lift the vehicle, the front and rear lift arm pads should be centered under the reinforced lift plates on the inboard edge of the sill rail (see illustration).
WARNING
The ignition system has very high voltage!
The voltage in the ignition system is dangerous!
Do not touch spark plugs, ignition cables or the ignition coil when the engine is running or the ignition is switched on!
The ignition should be switched off when:
• Conducting engine tests.
• Replacing parts in the ignition system, such as spark plugs, ignition coil, distributor, ignition cables, etc.
WARNING
Never try to repair any part of the SRS/ SIPS/WHIPS/IC systems yourself. Any interference in the system could cause malfunction and serious injury. Any work should only be performed by an authorized Volvo workshop.
See also:
Phone book
The hands-free system uses two phone books (one with the cell phone's list of contacts and one with contacts saved directly in the infotainment system), which are combined to form one phone bo ...
Repairing stone chips
1. Place a strip of masking tape over the damaged surface. Pull the tape off so that any loose flakes of paint adhere to it. 2. Thoroughly mix the primer and apply it with a small brush. 3. When ...
Automatic relocking
If the doors are unlocked, the locks will automatically reengage (re-lock) and the alarm will rearm after 2 minutes unless a door or the tailgate has been opened. ...