Returning the spare wheel to the storagecompartment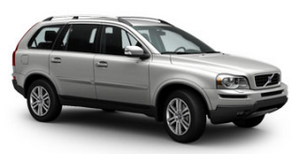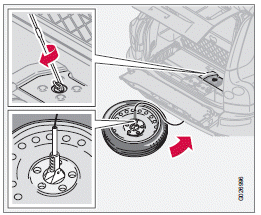 1. Use the crank (turn it counterclockwise) to lower the spare wheel's retaining cable.
2. Pass the toggle at the end of the cable through the center hole in the spare wheel.
Pivot the toggle 90 degrees so that when raised, the wheel will rest on the toggle.
3. Retract the retaining cable slightly by slowly turning the crank clockwise several times.
4. Position the wheel so that it is not obstructed by components in the exhaust system.
5. Continue to raise the wheel by turning the crank clockwise. Raise the wheel a little bit at a time and guide it around the rear axle until it is securely seated in the storage area.
6. When it is no longer possible to turn the crank any further, check that the spare wheel is securely in position in the storage compartment.
See also:
Blower control
Turn the control clockwise to increase or counterclockwise to decrease the blower speed. If AUTO is selected, blower speed will be regulated automatically and this will override manual adjustment. ...
Driving dynamics: steering, brakes and transmission
All XC70 models get Volvo's innovative AWD (All-Wheel Drive) transmission as standard. This advanced system, which automatically apportions torque front-to-rear depending on need, improves the XC7 ...
Fuses in the cargo compartment
The fuses in the cargo area are located behind the panel on the driver's side of the cargo compartment. When replacing a blown fuse, be sure to replace it with a new one of the same color and ...