Returning the spare wheel to the storagecompartment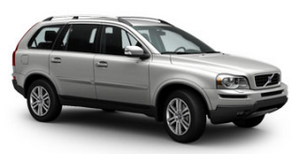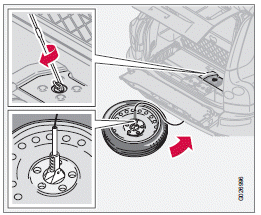 1. Use the crank (turn it counterclockwise) to lower the spare wheel's retaining cable.
2. Pass the toggle at the end of the cable through the center hole in the spare wheel.
Pivot the toggle 90 degrees so that when raised, the wheel will rest on the toggle.
3. Retract the retaining cable slightly by slowly turning the crank clockwise several times.
4. Position the wheel so that it is not obstructed by components in the exhaust system.
5. Continue to raise the wheel by turning the crank clockwise. Raise the wheel a little bit at a time and guide it around the rear axle until it is securely seated in the storage area.
6. When it is no longer possible to turn the crank any further, check that the spare wheel is securely in position in the storage compartment.
See also:
Fuel Formulations
Do not use gasoline that contains lead as a knock inhibitor, and do not use lead additives. Besides damaging the exhaust emission control systems on your vehicle, lead has been strongly linked to ...
Fog lights
Front fog lights The front fog lights can be used in combination with either the headlights or the parking lights. 1. Turn the ignition key to position II. 2. Press button (2) to turn on the fro ...