Global sales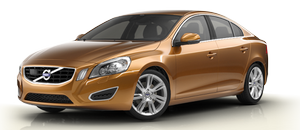 The first-generation Volvo S60 was launched in 2000. It soon became Volvo Cars' most popular model, enjoying worldwide acclaim and peak sales of 110,000 cars in 2002. In total, there are about one million S60s on roads the world over today.
The initial annual global target for the all-new Volvo S60 is 90,000 cars and the car's customer base is spread unusually uniformly throughout the world. Europe (including Russia), North America, and the rest of the world will each account for about one-third of total sales. The five largest single markets will be the UK, USA, China, Russia and Sweden. The all-new Volvo S60 will be built at the Volvo Cars factory in Ghent, Belgium and first cars will be delivered to customers in early summer 2010.
See also:
Main CD Audio menu
Disc menu Random Scan Audio settings ...
Warning light—driver braking required
Adaptive Cruise Control can exert brake force that is equivalent to approximately 40% of the vehicle's total braking capacity. In situations requiring more brake force than ACC can provide and ...
Vehicle loading
Loads Properly loading your vehicle will provide maximum return of vehicle design performance. Before loading your vehicle, familiarize yourself with the following terms for determining your v ...