Opening/closing the fuel filler door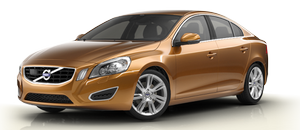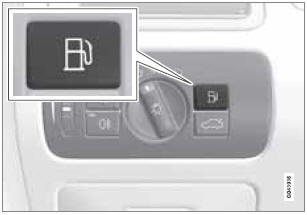 The fuel filler door is located on the right rear fender (indicated by an arrow beside the fuel tank symbol on the information display

)
With the ignition switched off, press and release the button on the lighting panel to unlock the fuel filler door. Please note that the fuel filler door will remain unlocked until the vehicle begins to move forward. An audible click will be heard when the fuel filler door relocks.
If you intend to leave your vehicle while it is being refueled, this feature enables you to lock the doors/trunk while leaving the fuel filler door unlocked.
You can also keep the vehicle locked if you remain inside it during refueling. The central locking button does not lock the fuel filler door.
Be sure the fuel filler door is not obstructed and is completely closed after refueling.
Open the fuel filler cap slowly during hot weather.
Close the fuel filler door by pressing it; a click indicates that it is closed.
CAUTION
• Avoid spilling gasoline during refueling. In addition to causing damage to the environment, gasolines containing alcohol can cause damage to painted surfaces, which may not be covered under the New Vehicle Limited Warranty.
See also:
Infant seats
Securing an infant seat with a seat belt Do not place the infant seat in the front passenger's sea NOTE Refer to page 48 and page 50 for information on securing a child restraint using ISOFIX/ ...
Body
The advanced front structure consists of deformation zones of different grades of steel, each one with a certain role in a collision. The structure is designed to help providing increased protecti ...
Unbuckling the seat belt
To remove the seat belt, press the red section on the seat belt receptacle. Before exiting the vehicle, check that the seat belt retracts fully after being unbuckled. If necessary, guide the b ...