Anti-lock brakes (ABS)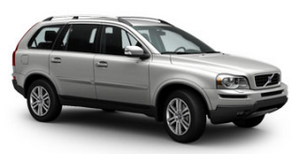 If the ABS warning lamp lights up there is a malfunction in the ABS system (the standard braking system will however function) and the vehicle should be driven cautiously to a trained and qualified Volvo service technician for inspection. The Anti-lock Braking System (ABS) helps to improve vehicle control (stopping and steering) during severe braking conditions by limiting brake lockup. When the system "senses" impending lockup, braking pressure is automatically modulated in order to help prevent lockup, which could lead to a skid.
The system performs a self-diagnostic test when the engine is started and when the vehicle first reaches a speed of approximately 12 mph (20 km/h). The brake pedal will pulsate several times and a sound may be audible from the ABS control module. This is normal.
To obtain optimal effect from the ABS system, constant pressure should be kept on the brake pedal. Do not pump the brake pedal.
The switching of the ABS modulator will be audible and the brake pedal will pulsate during braking. Please be aware that ABS does not increase the absolute braking potential of the vehicle. While control will be enhanced, ABS will not shorten stopping distances on slippery surfaces.
See also:
Scan
The function automatically searches the current waveband for radio stations. When a station is found, it is played for several seconds before scanning is resumed. While the station is playing ...
Minor scratches on the surface
If the stone chip has not penetrated down to the metal and an undamaged layer of paint remains, the touch-up paint can be applied as soon as the spot has been cleaned. ...
Accessing the tire sealing system
The tire sealing system is stowed under the floor of the cargo area. To access it: 1. Lift the floor hatch in the cargo area. 2. Lift out the tire sealing system. NOTE • The tire sealing system ...