Anti-lock brakes (ABS)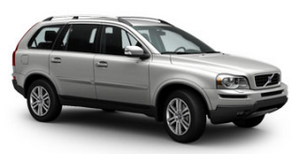 If the ABS warning lamp lights up there is a malfunction in the ABS system (the standard braking system will however function) and the vehicle should be driven cautiously to a trained and qualified Volvo service technician for inspection. The Anti-lock Braking System (ABS) helps to improve vehicle control (stopping and steering) during severe braking conditions by limiting brake lockup. When the system "senses" impending lockup, braking pressure is automatically modulated in order to help prevent lockup, which could lead to a skid.
The system performs a self-diagnostic test when the engine is started and when the vehicle first reaches a speed of approximately 12 mph (20 km/h). The brake pedal will pulsate several times and a sound may be audible from the ABS control module. This is normal.
To obtain optimal effect from the ABS system, constant pressure should be kept on the brake pedal. Do not pump the brake pedal.
The switching of the ABS modulator will be audible and the brake pedal will pulsate during braking. Please be aware that ABS does not increase the absolute braking potential of the vehicle. While control will be enhanced, ABS will not shorten stopping distances on slippery surfaces.
See also:
Rear window and door mirror defrosters
Use the defroster to quickly remove fog and ice from the rear window and the door mirrors. Press the button once to start simultaneous rear window and door mirror defrosting. The light in the b ...
Power door mirrors
Door mirror controls Adjusting 1. Press the L button for the left door mirror or the R button for the right door mirror. The light in the button comes on. 2. Adjust the position with the joysti ...
Parking brake
Electric parking brake An electric parking brake has the same function as a manual parking brake. NOTE A faint sound from the parking brake's electric motor can be heard when the par ...