Water on brake discs and brake padsaffects braking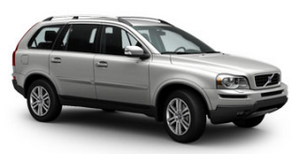 Driving in rain and slush or passing through an automatic car wash can cause water to collect on the brake discs and pads. This will cause a delay in braking effect when the pedal is depressed. To avoid such a delay when the brakes are needed, depress the pedal occasionally when driving through rain, slush etc.
This will remove the water from the brakes.
Check that brake application feels normal. This should also be done after washing or starting in very damp or cold weather.
See also:
Summer and winter tires
The arrows shows the direction of rotation of the tire • When switching between summer and winter tires, mark the tires to indicate where they were mounted on the car, e.g., LF = left front, ...
Reduced alarm function
Turning off the accessory alarm sensors In certain situations it may be desirable to turn off the accessory inclination and movement alarm sensors if, for example, you drive your vehicle onto a ...
Recycling
As part of Volvo's commitment to the environment, it is essential for the vehicle to be recycled in an environmentally sound way. Almost the entire vehicle can be recycled and for that reason, ...