Manually adjusted front seats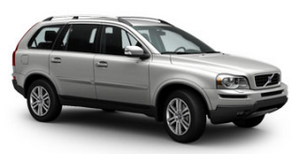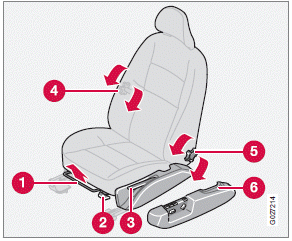 1 Front-rear adjustment: lift the bar and move the seat to the position of your choice.
2 Raise/lower the front edge of the seat cushion: use the control to pump the front edge of the cushion up or down.
3 Raise/lower seat height: pump the seat up or down.
4 Lumbar support: turn the control for firmer or softer lumbar support.
5 Backrest tilt: turn the control to adjust the angle of the backrest.
6 Control panel for optional power seat.
WARNING
• Do not adjust the seat while driving. The seat should be adjusted so that the brake pedal can be depressed fully. In addition, position the seat as far rearward as comfort and control allow.
• Check that the seat is securely locked into position after adjusting.
See also:
Warning light—driver braking required
Adaptive Cruise Control can exert brake force that is equivalent to approximately 40% of the vehicle's total braking capacity. In situations requiring more brake force than ACC can provide and ...
Body
The advanced front structure consists of deformation zones of different grades of steel, each one with a certain role in a collision. The structure is designed to help providing increased protecti ...
Headlight housing
The entire headlight housing must be lifted out when replacing all front bulbs. CAUTION Never touch the glass of bulbs with your fingers. Grease and oils from your fingers vaporize in the he ...